Suzy, Lee Jong-suk's new TV series asks if future can be altered at will, at what cost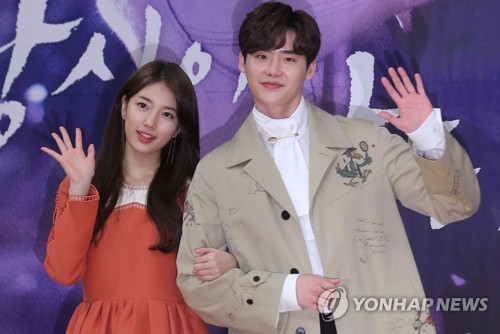 SEOUL, Sept. 22 (Yonhap) — Ever dreamed of having the power to see future? The ability might be a blessing only when it accompanies another uncanny power: the ability to stop an unfortunate event from happening.
In SBS's new series "While You Were Sleeping," Nam Hong-ju, played by Bae Suzy, is locked in a perennial state of helplessness and guilt, as she has long been unable to prevent the bad things she sees in her dreams from coming true.
At a press conference at the SBS headquarters in Seoul on Friday, the actress, better known as Suzy from girl group missA, said her character is deeply frustrated over her powerlessness and is prone to giving up.
She sees, however, a glimmer of hope after prosecutor Jung Jae-chan, played by Lee Jong-suk, enters her life.
"We are asking if it's possible to change the course of our lives if we tried, and if so, what would be the consequences?" she said.
Director Oh Chung-hwan, who produced "Doctors" and "My Love from the Star," said the drama touches upon a question of constant decision-making in life.
"In a nutshell, it is a story about locking the stable door after the horse is stolen. We constantly make decisions and accept the outcome. From time to time, we wonder what kind of outcome a different decision would have produced," the director said.
The drama, which will premier at 10 p.m. Wednesday, has been already fully produced. The 32-episode series was written by Park Hae-ryeon of "Pinocchio" and "I Hear Your Voice," in which Lee played one of the main characters. Lee said he chose to work with Park again out of complete faith in her story and the strong bond that he has built up with her over the years.
"It is my third time working with the writer. In this drama, we often talk about decisions. I told her that working with her is one of the best career decisions I have made so far," he said.
Having made her debut as an actress with Park's "Dream High" on KBS 2TV in 2011, Bae also showed her deep trust in the writer.
"On top of my wish to work with the writer again, the script was simply too interesting to pass up," she said.
Despite the fantastical element of seeing the future, the series, Lee said, successfully delivers a convincing, realistic story that viewers can relate to.
And he said he is perfectly happy with being ordinary and that he would never wish to have such a supernatural power.
"If I could foresee my future, I hope to see myself spending yet another ordinary day with serenity of mind. I think it is just tragic to be too different from other people," he said.
Suzy, however, jovially said, "I am curious how long I would live. What if I had only a few days of my life remaining? Then I would have to live today more fully."
Actor Lee Sang-yeop, who plays Lee Yoo-beom, another prosecutor who has a complicated relationship with Jung, came up with a witty response.
"I wish to know who I will marry. If I knew that, I would find her and treat her well."