Trump says he'll accept a clear election result, won't lose
WASHINGTON (AP) — Donald Trump has stepped back only slightly from his refusal to say during his debate with Hillary Clinton whether he would concede if he loses on Election Day, failing to stem the criticism that flowed from Republicans and Democrats over an attitude some contended struck at the heart of American democracy.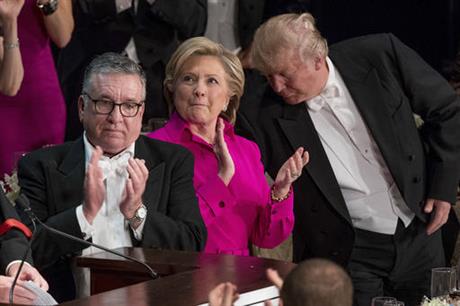 "I would like to promise and pledge to all of my voters and supporters and to all of the people of the United States that I will totally accept the results of this great and historic presidential election," Trump said Thursday while campaigning in Ohio. After letting that vow hang in the air for a few seconds, he added, "if I win."
Putting aside his mocking tone, Trump said he would accept "a clear election result" but reserved his right to "contest or file a legal challenge" if he lost on Nov. 8. He brushed off the likelihood of that happening with a confident prediction that "we're not going to lose."
Among those criticizing Trump was Sen. John McCain, the Arizona Republican who lost to Barack Obama in the 2008 presidential race.
"I didn't like the outcome of the 2008 election. But I had a duty to concede, and I did so without reluctance," McCain said in a statement. "A concession isn't just an exercise in graciousness. It is an act of respect for the will of the American people, a respect that is every American leader's first responsibility."
While Trump maintained he would win, numerous Republican leaders conceded that he was heading for defeat barring a significant shift in the campaign's closing days. The GOP's top concern was turning to salvaging its majority in the Senate, followed closely by worries over the Republicans' once comfortable grip on the House.
The annual Alfred E. Smith Memorial Foundation Dinner, a Catholic fundraiser in New York, was by tradition a moment when the Republican and Democratic nominees could turn any campaign vitriol into barbed humor and ultimately a show of national unity. The Thursday night event offered many hearty laughs — and a few awkward ones.
"We have proven we can actually be civil with each other," Trump said about the opponent he has asserted belongs in jail for alleged criminal acts. "In fact, just before taking the dais Hillary accidentally bumped into me and she very civilly said, 'Pardon me.'"
Following Trump at the dinner, Clinton cracked: "I didn't think he'd be OK with a peaceful transition of power."
But Trump drew some boos and jeers in the Waldorf-Astoria ballroom when he referred to Clinton being "so corrupt" and said without apparent humor that she was appearing at the event "pretending not to hate Catholics" — a line delivered during a benefit for the Roman Catholic Archdiocese of New York.
Clinton's jokes were cutting but delivered in the more accepted fashion of a roast. While several women have accused Trump of being sexually aggressive, Clinton steered clear of that controversy but referenced his public comments about the appearance of women with whom he has feuded: "Donald looks at the Statue of Liberty and sees a 4 — maybe a 5 if she loses the torch and tablet and changes her hair."
During an Ohio rally earlier Thursday, Trump tried to turn the attention to Clinton by accusing her of "cheating" and suggesting she should "resign from the race." He cited a hacked email disclosed publicly by WikiLeaks that showed her campaign was tipped off about a question she'd be asked in a CNN town hall meeting during the Democratic primary.
"Can you imagine if I got the questions? They would call for the re-establishment of the electric chair, do you agree?" Trump said.