LAX LAWS, FLAWED RECALL BLAMED FOR MALAYSIAN AIR BAG DEATHS
KUALA LUMPUR, Malaysia (AP) — Nida Fatin Mat Asis was slumped lifeless in her car seat, bleeding profusely from her nose and mouth, after her Honda hit a lamppost and skidded into a ditch. Her husband was slightly injured, and their baby wasn't hurt at all.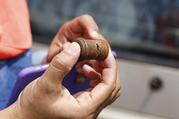 Her husband, like Nida a government doctor, had no idea what had happened until the post-mortem came in: A broken metal canister, later identified as part of an air bag inflator, had shot through her mouth and lodged in the base of her skull.
The deaths of Nida and four other Malaysians have been linked to faulty Takata air bags that are subject to one of the world's largest auto recalls. The U.S., with 11 deaths, is the only other country to have reported such fatalities. Why this Southeast Asian country of 30 million would be hit disproportionately hard by the defective air bags is a mystery, but the families of two Malaysian victims and a survivor blame weaknesses in their country's recall system.
They say Honda, the leading foreign brand in Malaysia, has failed to alert car owners about potentially deadly risks from the air bags or do enough to track down second-hand car owners. They also say the company hasn't provided enough replacement parts or alternative options for car owners if repairs cannot be done immediately.
The defective air bags have faulty inflators and propellant devices that may deploy improperly in an accident, shooting out metal fragments that can injure or kill. More than 100 million vehicles involving 17 automakers have been recalled worldwide, including 69 million in the U.S. alone, underscoring the scale of the crisis.
All the deaths in Malaysia involved the Honda City, a subcompact made for Asia and Europe. Experts say heat and humidity can make air bag explosions more likely, but neighboring Thailand, with a similar climate, has reported no deaths.
In his first media interview since his wife died on April 16, 2016, Nida's husband, Abdullah Shamshir Abdul Mokti, told The Associated Press they had not heard about the recall and never received a notice from Honda. They bought their used 2006 Honda City in 2012 in Kuala Lumpur, the capital, taking it with them when they moved to a rural town in Sabah the following year.
Nida, 29, was driving the morning she died because Shamshir was tired from night duty. Immediately after the crash, he thought she had suffered a concussion. Horrified to find no pulse, he shined a light into her eyes. Her pupils were fixed and dilated.
"The inflator must have shot through her mouth like a bullet," said Shamshir, who later returned to Kuala Lumpur.
The post-mortem report, shown to the AP, says examiners found a broken, 2.6-centimeter (1-inch) diameter, 2-centimeter (8/10ths of an inch) long air bag inflator, lodged in the base of Nida's skull. Her teeth were smashed and her nose fractured. Injuries to her brain stem likely caused her immediate death, it said.
"As a Muslim, I accepted her death as fate but I also believe she is a victim of multinational corporate manslaughter," Shamshir said. "I hold Honda and Takata responsible. This isn't an isolated case. We have five deaths in Malaysia, five very preventable deaths."
In an email, Honda said it sent out recall notices for the air bag inflators of Nida's car in July 2015, but to the car's first owner. It said it only had the database of the car's first owner at the time.
Malaysia's first air bag-related fatality was in July 2014, when a heavily pregnant driver and her unborn child were killed in eastern Sarawak state. A minor collision in her 2003 Honda City set off the air bag, which shot a one-inch-wide metal shard into her neck.
In May 2016, Honda reported a fatality involving a 2003 Honda City, in northern Kedah state. On June 26, Norazlin Haron, a 44-year-old single mother and accounts clerk, died in central Selangor state. She left behind two sons, ages 9 and 12.
The fifth death, on Sept. 24, was in southern Johor state.
A fractured inflator apparently punctured Norazlin's chest and lungs, said her eldest sister, Nor'ain Haron. Part of the inflator was found in the car, which was only lightly dented in the collision.
Norazlin bought the car new in 2005 and tried to get the air bag fixed after she received a recall notice marked "urgent," just weeks before her accident. A Honda dealer said he was short of parts and told her to return in July.
The recall notice didn't explain why the air bag had to be changed, said Nor'ain.
"It's like having a live bullet in the car," said Roslinya Latip, Norazlin's sister-in-law. "Honda is not doing enough. You sent a letter with an urgent stamp but there is no explanation, no spare part and no Plan B. What's the point? There is a loophole in their management and service here. Safety is not No. 1 (for Honda) in Malaysia."
Honda said it sent two recall notices to Norazlin in July 2015 and a third on June 1 this year. It said it found no evidence she was told to return in July to fix the air bag.
The Malaysian Association of Standards Users, a consumer group, blames the deaths on lax auto safety laws. Malaysia does not issue public notices of recalls or keep central databases enabling car owners to check if their vehicles are affected. The group is pushing for a new vehicle safety authority similar to the National Highway Traffic Safety Administration in the U.S.
There are no international standards for safety and recalls, or for how car owners should be notified. Many countries do not have strict regulations or a clear process that automakers must follow when they discover a problem, so defective parts recalled in one part of the world might not be recalled in another.
Honda began recalling driver's side air bags in the U.S. in 2008. It only started recalling side air bags in small cars sold in Europe and Asia in November 2014, after the first death of a driver in Malaysia.
The first letter Honda sent Malaysian car owners was labeled an "invitation for product update." A later one, stamped "urgent," notified car owners of an "airbag inflator replacement activity," but did not explain the recall and risks involved. Honda said it kept the letter simple and straightforward to ensure customers "would read it and not dispose of it as junk mail."
Honda Malaysia's website does not explain the reason for the recalls or mention deaths associated with the air bags.
Honda America has a website on the recalls, http://hondaairbaginfo.com/ , explaining the problem and showing in a video clip how the air bags can explode. It lists the dates and locations of air bag-related deaths in the U.S.
Honda America's dealers also can provide loaner or rental vehicles free of charge until repairs are made. It has hired private investigators to contact hard-to-reach owners.
Malaysia is Southeast Asia's third-largest car market, after Thailand and Indonesia, with more than 666,000 new cars sold last year. The country also has nearly 500,000 road accidents a year: Malaysian drivers' attitudes and road rage are common coffee shop talk.
The Road Transport Department and Malaysian Institute of Road Safety Research didn't respond to AP queries about the air bag recalls and accidents. Transport ministry officials could not be reached for comment.
Honda Malaysia says 60 percent of air bag inflators have been fixed, but 90,000 driver-side inflators and 65,000 front passenger inflators have yet to be repaired. Honda said it is working with the Road Transport Department and insurance companies to locate secondhand car owners and began sending out notices them in October.
"Honda Malaysia's main priority is to continue to reach out to all affected customers nationwide and replace airbag inflators of those affected vehicles," it said.
Nida's and Norazlin's families are in negotiations with Honda over a settlement, as is housewife Rabiah Ibrahim, whose near-miss led her to speak out.
Rabiah, also known as Bie, bought her 2005 Honda City used in 2010. She says she didn't know about the recall.
Driving home in the small town of Slim River in northwestern Malaysia's Perak state on May 3, Rabiah swerved to avoid an oncoming car, hit a manhole beside the road and skidded into a ditch. A ruptured inflator slashed her neck before lodging in her car seat headrest.
A day later, Honda issued a statement announcing the April 26 and May 1 air bag-related deaths. Rabiah's husband checked the car and found the hole in her headrest and the rusty inflator.
"I am so thankful that I have been given a second chance in life, but Honda should be responsible," Rabiah said.
Honda said it sent recall notices to the first owner of Rabiah's car but didn't have information on secondhand owners at the time.
Four months after Nida died, her father, Mat Asis Mahnoon, posted an appeal on Facebook urging Honda and the authorities to do more to warn car owners.
"What happened to Nida should never be repeated again. If because of her death I can save another life, that's a gain," Mat Asis told the AP.