'Along With the Gods' becomes third most-viewed movie in Korea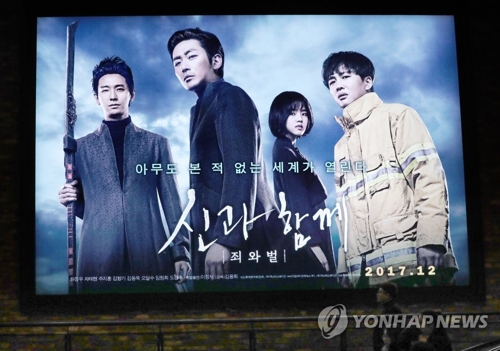 SEOUL, Jan. 23 (Yonhap) — Local fantasy blockbuster, "Along With the Gods: The Two Worlds," has become the third most-viewed film of all time in South Korea, data showed Tuesday.
According to the real-time box office tally from the Korean Film Council, the megahit movie reached 13,624,690 in cumulative audience as of 3 p.m., edging out "Avatar," a Hollywood sci-fi movie that drew 13,624,328 in the country in 2009.
A month after its release, "Along With the Gods" remained within the top five on the daily box office chart this week. If the trend continues, industry watchers said, the movie may surpass "Ode to My Father," the second most-watched film, which attracted 14.26 million people in 2014.
In South Korea, movies seen by more than 10 million viewers are considered huge box-office successes.
"Along With the Gods" is the first installment of a two-part series directed by Kim Yong-hwa, based on a popular webtoon by Joo Ho-min.
Starring Ha Jung-woo, Ju Ji-hoon and Kim Hyang-gi, the film is about a righteous firefighter who is judged in seven hells for 49 days after his death, guided by three grim reapers.
Part two is scheduled to open this summer.
The movie is also popular abroad.
It was released in Malaysia on Thursday and has climbed to the top of the weekend box office. In Taiwan and Hong Kong, it remains atop the box office for the fourth and second consecutive weeks, respectively, according to the film's local distributor Lotte Entertainment. The movie is set to open in the Philippines on Jan. 31.