US and S. Korea to hold joint recycling technology conference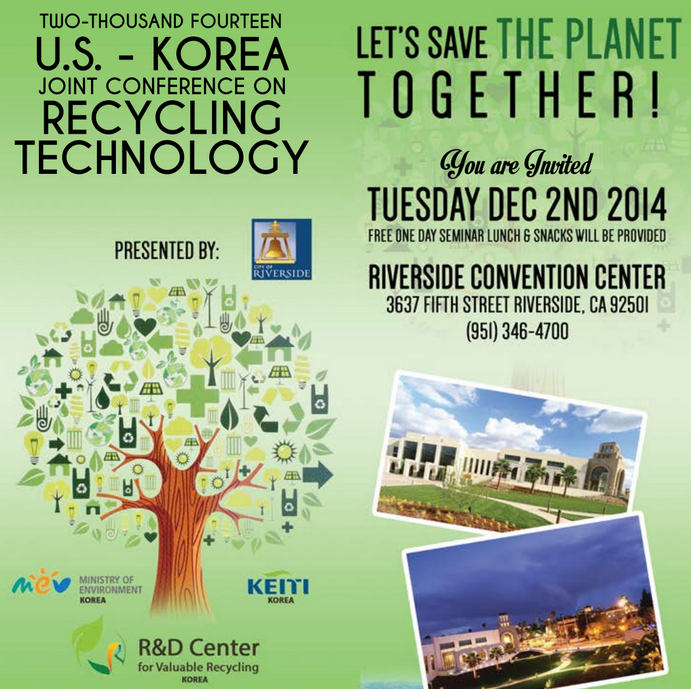 By Brian Han
The Research & Development Center for Valuable Recycling (RDC) and their North American partner, Inkor Technologies (based in Santa Monica, CA) will be co-hosting a one day joint symposium on Recycling Technology, December 2nd, 2014 at the Riverside Convention Center for free.
Based out of Incheon, South Korea, the RDC, a branch of the Korean Ministry of Environment (KMOE) has already been working on projects in underdeveloped Asian countries, but this event will mark the organization's first venture into a first world country. The primary objective is to introduce the RDC's latest technological advancements to illustrate that they can be both economically viable while also "significantly enhancing the efficiency of these businesses in Riverside," says founder of Inkor Technologies James A. Slazas.
"Because countries like South Korea have very limited amounts of land, we have had to develop better recycling technologies faster than countries like the United States," says Executive Managing Director of RDC Dr. Cho Bong-gyoo. "The U.S. has been relying on landfills to dispose of waste and now that they are looking for alternatives. We would like to share the knowledge and opportunities we have. Hopefully, this convention will be the beginning of a bigger movement."
The city of Riverside is a significant choice not only for practical purposes, but also cultural ones. Gangnam-gu, South Korea is officially recognized as Riverside's sister city and has a bronze statue memorial of Korean independence activist Ahn Chang-ho alongside Martin Luther King, Jr. and Mahatma Ghandi.
At the event, Mayor of Riverside Rusty Bailey along with 20 recycling experts from South Korea, who are professors and/or researchers, will speak on the matter. They will cover topics including large appliance waste, e-waste, polyurethane, polyethylene terephthalate and flat panel recycling along with discussions on the regulatory policies and the landscape of recycling in Southern California.
It is important to note that although the convention will deal with practices that involve the community on a consumer level, the event is mostly catered towards waste management businesses and government representatives of Riverside.
More from the event organizers:
"The Mayor of Riverside, Rusty Bailey will open this symposium which is intended to initiate ongoing collaboration. Our Korean experts will be easily accessible all day for break out discussions to discuss in-depth questions and potential partnerships in applying these innovations. The goal is the sharing of ideas and potential partnerships by providing technology and capital access to partners with a footprint in the U.S."
Register here to attend this conference on Recycling Technology.