Director Hong Sang-soo confirms romance with actress Kim Min-hee
SEOUL, March 13 (Yonhap) — Award-winning Korean filmmaker Hong Sang-soo on Monday publicly admitted to being in a relationship with actress Kim Min-hee for the first time since media speculations on their relationship emerged last June.
"I don't know if this is the right place to unveil this, but we're in love. We truly love each other in our own way," Hong said when questioned about his relationship with her after the press screening in Seoul of his latest film "On the Beach At Night Alone."
This marked their first public appearance together in Korea since news of their affair broke after Hong filmed his 2015 movie "Right Now, Wrong Then" with the actress.
They previously attended the 67th Berlin International Film Festival together last month for "On the Beach." Kim took home the Silver Bear for Best Actress for her lead role in the film.
During the festival, they didn't officially confirm media reports on their relationship but have been publicly spotted displaying mutual affection. Hong filed for a divorce from his wife in November.
"At first, I thought I had no reason to tell this… This is our private matter," the director said when asked about the long silence on the reports.
Kim also confirmed the relationship, saying: "We're seeing and love each other with all our hearts. We'll humbly accept everything — situations ahead of us and that will come."
The two were seen wearing the same ring on the same ring finger of their right hand on Monday as they did at the Berlin festival.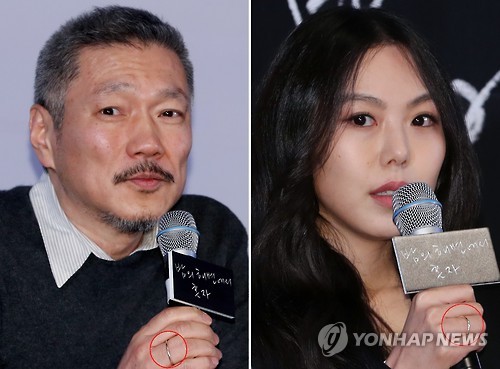 In the award-winning film, Kim played the role of Young-hee, an actress pondering her relationship with a married movie director while drinking with friends in a seaside town shortly after returning from a trip to Germany.
The movie has drawn much media attention for its story possibly being based on the director's own experience in real life as the main characters' conversations strongly advocate for the extramarital relationship.
When asked if the film is autobiographical, Hong said that "it is impossible to create an autobiographical story. I'm not likely to make any autobiographical film till the last."
Also present at the news conference were the film's supporting actors Seo Young-hwa, Kwon Hae-hyo and Park Ye-joo.
The event drew much attention from local media because it marked the couple's first public appearance in Korea together in nine months.
With ticket reservations for the film's press screening at a 400-seat theater in Seoul closed earlier than expected, journalists waited in a long line to get canceled tickets.
The film is set to premiere in South Korea on March 23.