Did a South Korean news report doom Kim Jong Un's brother?
SEOUL, South Korea (AP) — Intelligence officials believe North Korean agents assassinated leader Kim Jong Un's exiled half brother, but if the whodunit seems settled, a very big question still looms: Why now?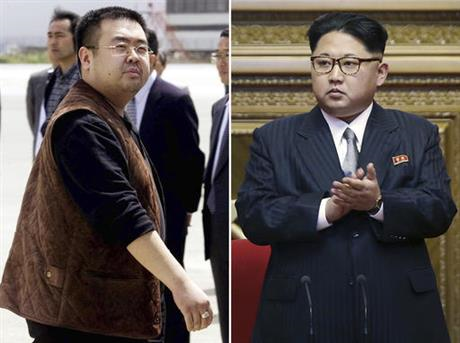 Kim Jong Nam, reportedly killed by two female agents in a cloak-and-dagger operation in a Malaysian airport, had long been an embarrassment to North Korea's government — humiliated during a failed attempt to sneak into Japan to visit Disneyland and outspoken in opposing the rise to power of his brother, who had his uncle executed after taking over.
But the overweight gambler and fading playboy had kept his head down in recent years from his base in Macau. Kim Jong Nam was seen by many outsiders as only a minor distraction for North Korea's leaders, and certainly not an existential threat worth the risk of a potentially embarrassing assassination caper on foreign soil.
The spotty South Korean intelligence community ascribed the North's motivation in killing Kim Jong Nam, without any elaboration, simply to Kim Jong Un's "paranoia." There is a more intriguing possibility floating around Seoul, however: The tipping point in North Korea's bloody calculations may have been a largely ignored South Korean news story from last week.
A national daily, the Kyunghyang Shinmun, reported that Kim Jong Nam tried to defect to South Korea several years ago and had served, in the 2000s, as a middleman between disgraced current South Korean President Park Geun-hye and officials in North Korea.
Kim Jong Un may have clenched his teeth and carried on when he heard reports of his half brother's exploits in Macau casinos, and even when Kim Jong Nam, often photographed in an expensive, untucked, button-down shirt and newsboy cap, questioned in 2010 the need for a third generation of the Kim family to rule in Pyongyang.
But public reports in rival South Korea of alleged close dealings between a direct relative of North Korea's ruling dynasty and high officials in Seoul — and possible attempts to defect to the South — could have represented a serious challenge to a leader who portrays his family as the only legitimate power on the Korean Peninsula.
If a person with the blood of North Korea founder Kim Il Sung flowing in his veins was considering defecting to prosperous, democratic South Korea, what message did that send to North Korea's elite, or to the millions of poor and dissatisfied?
South Korea's spy agency, the National Intelligence Service, which has a spotty record in reading the goings-on in North Korea and often tries to paint the leadership as unbalanced, denied any defection attempt by Kim Jong Nam.
But Cheong Seong-Chang, an analyst at South Korea's Sejong Institute, raised the possibility that the assassination was linked to the newspaper report, which cites interviews with anonymous officials from the Europe-Korea Foundation, where Park served as a board member for a decade before stepping down ahead of the presidential election in late 2012, and computer files and emails that showed exchanges between Kim Jong Nam and the foundation's officials.
The newspaper reported that Kim Jong Nam, who was then living in Beijing, delivered a letter that Park wrote to Kim Jong Il, North Korea's second leader and Kim Jong Un's father, in 2005. The letter, according to the newspaper, showed Park requesting help on cultural exchange programs pushed by the foundation.
Jeong Joon-Hee, the spokesman of South Korea's Unification Ministry, previously said the government doesn't believe such a letter from Park, who has been impeached over a corruption scandal, was delivered to North Korea.
The newspaper also cited anonymous sources to report that Kim Jong Nam explored the possibility of defecting to South Korea, and also to the United States and Europe, in 2012 before giving up. The sources said Kim's talks with South Korea and the United States eventually fell through because of his excessive demands.
While the South Korean news report is a fascinating potential explanation for Kim Jong Nam's death, there are other possibilities — including that Monday's killing was the culmination of years of effort by North Korea.
Seoul's spy service told lawmakers Wednesday that North Korea had for five years tried to kill Kim Jong Nam, who had kept a low profile since his uncle and former protector, the North's former No. 2, Jang Song Thaek, was executed by Kim Jong Un in 2013.
The NIS, according to lawmakers, cited a "genuine" attempt by North Korea to kill Kim Jong Nam in 2012, but didn't elaborate. The lawmakers said the NIS told them Kim Jong Nam sent a letter to Kim Jong Un in April 2012, after the assassination attempt, begging for the lives of himself and his family. The letter said, "I hope you cancel the order for the punishment of me and my family. We have nowhere to go, nowhere to hide, and we know that the only way to escape is committing suicide."
Kim Jong Nam's links with China may have also played a role.
Beijing had long protected Kim Jong Nam, according to South Korea's intelligence service. China may have been interested in propping up Kim Jong Nam as a future North Korean leader should the current government in Pyongyang collapse.
Kim Jong Un would not have been pleased by knowledge that his brother was being used by Beijing as a pawn and potential replacement.