Wonder Girls outgrow shadow of JYP chief producer
SEOUL, July 5 (Yonhap) — It took 10 years for South Korean girl group Wonder Girls to "tal-Park," or "walk out of chief producer Park Jin-young's shadow," its members wittily said in an interview in southern Seoul earlier this week, just one day before their new EP was released on Tuesday.
"Why So Lonely," the title song on the EP of the same name, is the first title track not composed by Park. The news surprised many, since Park, the JYP Entertainment founder and singer-songwriter, always had his hands on his artists'title songs. Although using songs created by band members is no longer a novelty in the idol industry, Wonder Girls had been considered an exception, since its mega-hit title songs, such as "Tell Me," "So Hot" and "Nobody," were all composed and written by Park.
"Park Jin-young sent us a long message in the group chat after we released the album 'I Feel You' in August," said Sunmi.
"He said he won't be writing lead songs for Wonder Girls albums any more, and told us to make one. He seemed to have more trust in us since he saw us work on the last album," the 24-year-old said.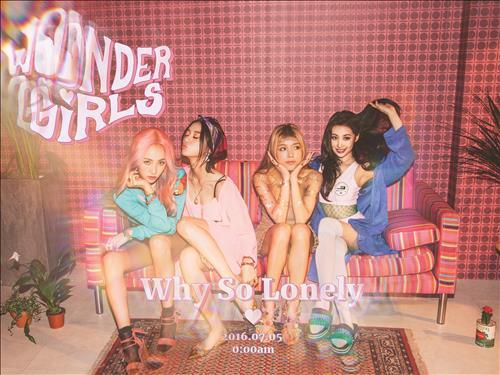 All four Wonder Girls members, Yubin, Yeeun, Sunmi and Hyerim, worked on the song. The slow tempo, reggae-infused pop song was composed by Sunmi and Hyerim and composer Hong Ji-sang. The lyrics were written by Yubin, Sunmi and Hyerim.
The song includes a blend of soft guitar riffs and steel drum rhythm with a slight change of pace at points.
"We chose the most sellable, promising songs," said Yeeun as she introduced the song.
Hyerim called the song "a mix of lovely melody with a twist in the words."
"The lyrics are about the lonely feeling after a romantic relationship, material that many people can sympathize with," she added.
The members agreed that self-composed, self-written songs work out well for idol singers too, since it adds to the natural presentation of each individual member's own musical colors.
"In the old days, idol music used to be nothing but completely commercialized. But idols grow up, too. Now these grown idols have reached the point where they tell their own story in their own style," Yeeun added.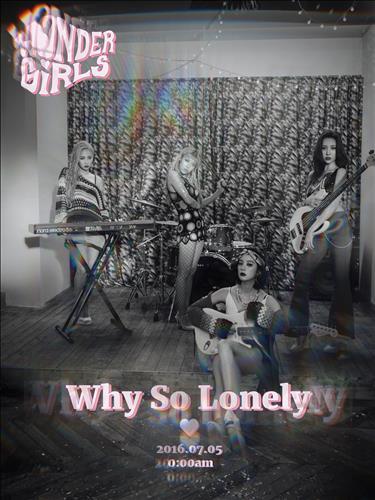 Another unexpected move for the Wonder Girls last year was the re-shuffling of format. The dance-intensive girl group transitioned into a band — Yeeun plays keyboard, Sunmi on bass guitar, Yubin on drums and Hyerim on guitar.
"Early training means more than late learning," said Sunmi, describing the members as real challengers, never afraid of change.
Indeed, the girl group has undergone some major challenges in K-pop girl group history.
After its debut in 2007, Wonder Girls enjoyed fast popularity. When group rose to uncontested stardom in 2009, it flew to the U.S., seeking an inroad to the U.S. pop market.
With "Nobody," Wonder Girls rose to No. 76 on Billboard's single chart, yet failed to further climb up the ladder.
"There is no single 'realistic' person in our team. Both the U.S. debut and the reformation from dance group to a band were not a realistic move. But they taught us precious lessons," said Yeeun.
Even after continued changes in band members, the Wonder Girls stood tall. Two of the founding members, Sunye and Sohee, left: the former to focus on her marriage and the latter to concentrate on her acting career. Hyerim later joined the group in 2010.
"Last year, we were half-band, half-dancing group. This time, we will perform 100 percent as a band," said Sunmi, ready to set sail with a new, dream album.