UNEMPLOYMENT RATES MOSTLY FALL IN US BATTLEGROUND STATES
WASHINGTON (AP) — Unemployment rates in U.S. presidential swing states, including Florida and North Carolina, mostly fell in August compared with a year ago.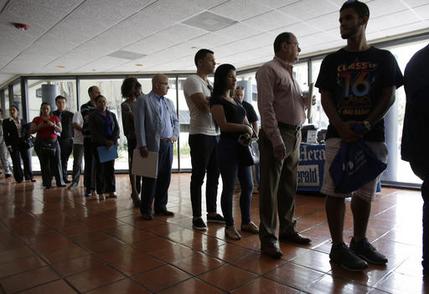 But they were up in some hotly contested states, such as Pennsylvania, where the rate jumped to 5.7 percent from 4.9 percent 12 months earlier, according to a report Tuesday from the U.S. Labor Department. Florida's rate dropped to 4.7 percent from 5.2 percent a year ago, and North Carolina's plunged to 4.6 percent from 5.7 percent. Rates fell in four of seven swing states and rose in three.
Typically, falling unemployment is a good sign for an incumbent party in a presidential election. But GOP nominee Donald Trump says that growth remains weak and is seeking to benefit from the economic distress that is still apparent in many pockets of the nation.
Broader data in the report painted more of a mixed picture. Unemployment rates also fell in the past year in close-fought states such as Georgia, Virginia and New Hampshire. Yet they rose in Iowa and Ohio.
And some swing states shed jobs in August compared with a month earlier. North Carolina lost 14,100 and Michigan lost 16,400.
Other battleground states reported solid hiring in August compared with the previous month. The biggest gains were in California, which added 63,100 jobs, followed by Florida, with 24,500, and Virginia, with 13,100.
Nationwide, employers added 151,000 jobs in August, a solid total but much lower than the two previous months' big gains. The unemployment rate is 4.9 percent and hasn't changed much in the past year, partly because more people have started looking for work, offsetting those who have been hired.
South Dakota had the lowest unemployment rate last month, at 2.9 percent. Alaska reported the highest rate, at 6.8 percent.