TWICE's 'TT' music video tops 200 mln YouTube views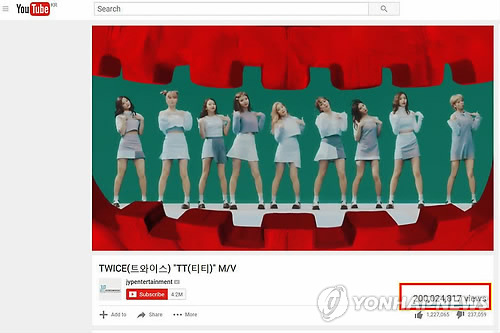 SEOUL, May 26 (Yonhap) — The video for K-pop girl group TWICE's 2016 single "TT" surpassed 200 million YouTube views Friday, its agency said.
The video reached the milestone at 10 a.m., 215 days after it was uploaded on the global video-sharing service, JYP Entertainment said, adding that TWICE became the first K-pop female act to achieve the record.
Released on Oct. 24, 2016, the video surpassed the 100 million mark on Jan. 3, in a period of 71 days, making TWICE the fastest K-pop idol group to achieve the view count.
"TT" is the lead track off the group's third EP "TWICEcoaster:LANE1."
On Saturday, "Knock Knock" became the fourth TWICE song to garner more than 100 million views after its debut single "Like OOH-AHH," "Cheer Up" and "TT."