'Too big to fail' mantra fails to work for Hanjin Shipping
SEOUL, Aug. 31 (Yonhap) — Hanjin Shipping Co., South Korea's top container shipping line and the world's seventh-largest, is destined for receivership, and may face bankruptcy in a worst-case scenario. It is unimaginable years before that a shipping firm with a fleet of some 140 container and bulk ships and 70 global routes, is put under court protection and may go belly up.
Indeed, Hanjin Shipping's receivership filing has many complications for the country's overall economy and its on-going corporate revamp drive, underscoring the country's key backbone industries badly struggling with a protracted slump and massive losses. The Hanjin fiasco also shows that a "too-big-to-fail" mantra is not resounding anymore in Asia's fourth-largest economy.
On Tuesday, creditors of Hanjin Shipping decided not to extend fresh support for the shipping firm which still needs some 1.3 trillion won (US$1.16 billion) in cash through next year for chartered fees, operating capital and debt repayment. The creditors even likened any fresh cash injections to "pouring water into a broken jar," which describes Hanjin's deepening financial strain.
The creditors, led by the state-run Korea Development Bank (KDB), have said Hanjin saddled with debt totaling some 5 trillion won, should have come up with more bolder, stronger self-rescue plan, calling for its parent Hanjin Group to do more in salvaging the sinking shipper.
But Hanjin claimed that the latest self-restructuring scheme worth 500 billion won is the most it can do, forcing the creditors to pull the plug and dashing speculations that they may give a more extended grace period for the shipper.
"Hanjin Shipping's plans are insufficient, given the funds needed for its survival," said KDB chief Lee Dong-geol on Tuesday.
Cho Young-moo, a researcher at LG Economic Research Institute, said the creditors' decision for Hanjin sends a clear message to the market. "If a company is not viable and its restructuring efforts are not enough, it could be possible to enter receivership," said the researcher.
Hanjin Shipping had suffered mounting losses for years largely due to the waning global trade and the subsequent drop in freight rates. The Baltic Dry Index, a measure of shipping cost for commodities, fell to an all-time low of 290 early this year from above 1,000 in mid-2015, although it rebounded to above 700.
Industry watchers said the government's on-going corporate restructuring drive may gather momentum following Hanjin's receivership, but the government seems to be mainly focused on less politically sensitive sectors which hire a relatively small number of employees and have less ripple effect on the economy as a whole.
For one, creditors of Daewoo Shipbuilding & Marine Engineering Co. decided to give some 4 trillion won in financial aid for the struggling shipyard last year in return for massive corporate revamp. The shipbuilder whose employees totaled some 13,000, but could snowball to up to 40,000 when its subcontractors are counted, suffered a loss of some 5 trillion won last year.
Along with the shipbuilding segment, the country's shipping sector has supported a stellar growth in Asia's fourth-largest economy for the past decades, but recently fell victim to a protracted downturn caused by overcapacity and a slowdown in the global economy.
In June of the year, South Korea's government unveiled a hastily drawn-up plan to set up an 11 trillion won fund to help revamp the country's ailing industries, namely the shipbuilding and shipping sectors.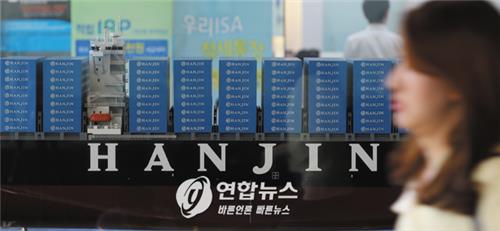 "The government wants to show that it would adopt a harsh and rigid principle in revamping the troubled sectors," said an analyst at a local brokerage house seeking not to be named.
Meanwhile, market speculation runs high that the shipper may be liquidated eventually given that its operations may not go smoothly down the road. Hanjin Shipping may be kicked out of a global shipping alliance, and owners of chartered ships may impound Hanjin's vessels for chartered fees in arrears.
Hanjin Shipping said one of its container vessels was already seized in Singapore by a creditor, and a slew of its ships are denied entry to ports in China, the United States, Canada and other nations.
Besides, the Hanjin fiasco is feared to deal a blow to the country's shipping industry. Hanjin accounts for roughly 10 percent of cargo processed at Busan port, the country's largest seaport.
If Hanjin Shipping's fleet get stranded, it would result in job cuts of 1,100 and 440 billion won in losses at the port, a report claimed earlier.
Given the situation, the government stressed that it has mapped out a set of measures to deal with the fallout of the Hanjin debacle.
Earlier in the day, South Korea's top financial regulator said Hyundai Merchant Marine Co., Hanjin's smaller local rival shipper currently under a creditor-led debt restructuring program, may acquire parts of Hanjin's assets, including the rights for a port terminal and its business network.
"(We) will cope comprehensively with the situation to prevent turmoil in the financial market," Jeong Eun-bo, vice chairman of the Financial Services Commission (FSC), said during a meeting.
He said Hanjin Shipping's receivership filing would have limited impact, allaying concerns about possible negative effects on the nation's financial and shipping industries.