The Beatles' Ringo Starr to stage first Korea concert in Nov.
SEOUL, July 20 (Yonhap) — Ringo Starr, the drummer of world-famous British rock band the Beatles, will hold his first-ever concert in South Korea in November, a local concert planner said on Wednesday.
The British songwriter's concert was ultimately set for Nov. 5 at 8 p.m. at Jamsil Stadium in southeastern Seoul, according to World Show Market, a local concert and event planner for international artists. This would be his first event in Korea in his 54-year music career.
"The concert will be a once-in-a-lifetime chance for Korean fans of Starr," World Show Market said in a press release.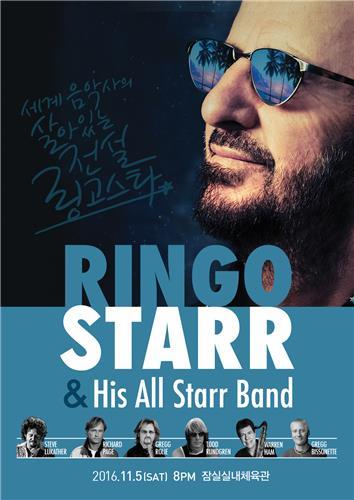 Starr will take over South Korea's largest concert venue with Steve Lukather, guitarist and a member of U.S. rock band Toto, and Todd Rundgren, a songwriter, producer and guitarist for U.S. rock band Utopia.
Ticket pre-sales will begin at 2 p.m. on July 28 at ticket.yes24.com.