SPOTLIGHT ON PRINCE HARRY'S NEW GIRLFRIEND, MEGHAN MARKLE
LOS ANGELES (AP) — Meghan Markle has been an actress for more than a dozen years, yet most people heard her name for the first time when Prince Harry announced that she's his girlfriend.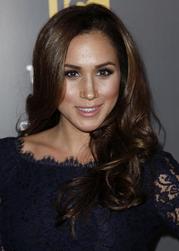 Harry confirmed he was dating the 35-year-old American when he released a statement Tuesday decrying the media's treatment of Markle, saying reporters have tried to break into her home and photographers have prevented her mother from reaching her front door.
The confirmation thrust Markle into a fishbowl of international media scrutiny, but it could also boost her career.
"The truth is she's not a household name," said E! News correspondent Marc Malkin. "She's going to be one because of Prince Harry."
Markle parlayed small parts on such TV series as "Fringe," "Without a Trace" and "CSI: Miami" into a starring role on the USA Network drama "Suits ." She has played paralegal and aspiring lawyer Rachel Zane on the show, now in its sixth season, since 2011.
The actress appears to be as ambitious and hardworking as her character. Besides "Suits," she starred in the show's five-part web series about New York restaurants, "Power Lunch with Meghan Markle."
And a higher profile could bring more professional opportunities.
"Now that she's dating Prince Harry, I'm not saying that all of a sudden she's going to be working with every Oscar winner and legend in Hollywood, but a lot of doors open," Malkin said. "The benefit here is in Hollywood, it's about name recognition. You want people to think of you when they're casting something. You want people to think of you when they're throwing a big red carpet event. A lot of it is about exposure, and you can't ask for more exposure than dating Prince Harry."
That exposure could benefit Markle's various off-screen efforts as well, including the clothing collection she helped create for Canadian retailer Reitmans and her work with UN Women and the World Vision.
Markle continues to contribute to her lifestyle website, TheTig.com , which she established in 2014 as a place to "integrate social consciousness and subjects of higher value than, let's say … selfies" with beauty and fitness advice. Her most recent postdetailed how she balances her humanitarian work with her Hollywood career. She has also written for Elle magazine about being biracial and finding her identity beyond her ethnicity.
Markle credits her parents with showing her both the glitter of Hollywood and the joy of giving back. Born in Los Angeles, she accompanied her lighting-director dad to sitcom and soap-opera sets, while her therapist mom brought her along on exotic trips to places where poverty was the norm. Markle writes on her blog that her parents donated turkeys to homeless shelters at Thanksgiving and delivered meals to hospice patients.
"This is what I grew up seeing, so that is what I grew up being: a young adult with a social consciousness to do what I could, and to, at the very least, speak up when I knew something was wrong," she writes.
While it's unusual for a royal to issue an official comment on a personal relationship, as Harry did Tuesday, European royalty romancing American stars isn't new.
"Princess Grace is obviously the classic story," Malkin said. "It's this whole idea of royals dating Americans: how that's not supposed to happen and when it does happen, it's scandalous."
Or at least attention-getting. So how will Markle navigate work, life and romance under a royal microscope?
"She's going to have to have thick skin," Malkin said.
Ingrid Seward, editor-in-chief of Majesty magazine, said Harry's previous girlfriends struggled with media attention.
"With Chelsy Davy, she handled the spotlight for a bit, but then she decided it really wasn't for her, that life. She couldn't actually marry into that world," she said. "And Cressida Bonas, although she's an actress, she hated the attention, she hated the criticism. And it's not just the press, it's everyone, everyone having a go at you. Very difficult to deal with."