Sanctions-squeezed N. Korea witnesses exodus of the elite
SEOUL, Aug. 17 (Yonhap) — Squeezed with the harshest-ever international sanctions, North Korea is witnessing an unprecedented increase in the number of the country's elites abandoning their homeland, with the latest defection by a London-based diplomat highlighting the difficulties it is facing, officials and experts here said Wednesday.
South Korea's Unification Ministry announced that Thae Yong-ho, a minister at the North Korean Embassy in London, and his family are currently under the South Korean government's protection after leaving his post in the British capital.
The ministry's spokesman Jeong Joon-hee explained that the reason behind the unusual, high-level diplomat's defection was his "disillusionment" with the North Korean Kim Jong-un regime and aspirations for freedom.
"This case shows that North Korean elites are feeling there is no hope for their country," the spokesman said. "It also indicates that North Korea's regime's internal solidarity is weakening."
The North Korean career diplomat is one of highest-ranking foreign service officers who have sought asylum in South Korea. As a minister, he was No. 2 man at the North Korean mission in London.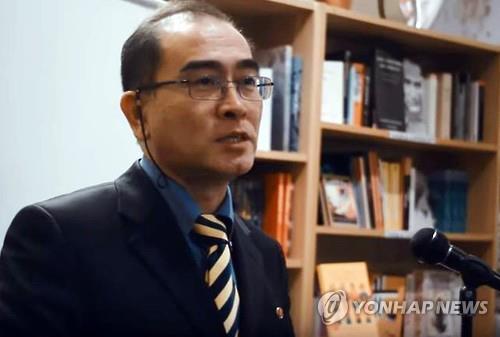 Thae's defection is loaded with signs of growing agitation and discontent among North Korea's ruling class, given that he was among the privileged few in the impoverished communist country, experts familiar with internal North Korean affairs said.
The 55-year-old diplomat was one of North Korea's point men on Western Europe, having been educated in China during high school. Overseas study is allowed to only a select group in the country of those who are very close to the leadership through their family backgrounds. After earning a bachelor's degree in Pyongyang, he also went to Denmark to continue studying, according to former North Korean diplomats now in South Korea.
His stay in London spanned nearly 10 years, during which he has been actively engaged in a campaign to promote North Korea's national image against the backdrop of growing international pressure in the wake of North Korea's relentless nuclear program.
Thae's defection also comes amid increasing talk in South Korea about signs of a possible exodus by privileged North Koreans who are feeling the squeeze of international sanctions.
In March, the United Nations Security Council adopted a new punitive resolution on North Korea in reaction to the communist country's fourth nuclear test in January and a long-range rocket launch the following month. The North is prohibited by previous UNSC resolutions from conducting nuclear or ballistic missile tests.
Banning exports of mineral resources, jet fuel or other strategically import materials to North Korea, the latest resolution is viewed as putting considerable pressure on the country. Individual sanctions have been adopted by countries like South Korea, the U.S. and the European Union that are further hurting the country.
Reflecting this, a group of 13 North Korean employees posted at a North Korean state-run restaurant in Ningbo, China, defected to South Korea en masse in April. In June, three more North Korean restaurant employees working in China escaped to Seoul.
The group defection cases were the first that signaled rising discontent permeating in the country.
People who work in overseas restaurants are from relatively well-to-do families and deemed loyal to the state.
A North Korean senior colonel was also confirmed in April to have defected to South Korea in 2015. He was known to have been at the North's reconnaissance bureau tasked with carrying out espionage missions against the South.
Experts pointed out that North Korea is experiencing a steady number of defections by upper-echelon members of society that could lead to social disintegration.
Citing results of interviews with North Korean defectors, Yoon Yeo-sang, director of the Database Center for North Korean Human Rights, said "the ratio of North Korean defectors who say they were upper-middle or upper class back home has been increasing since several years ago."
With recent desertion cases involving well-to-do citizens, the ratio has risen even more lately, Yoon said, without disclosing exact data.
In the past, the yearly number of defections by North Korean overseas workers stood at only one or two, he said, adding that the recent sharp increase appears to have come in the aftermath of sanctions slapped on North Korea.
An estimated 815 North Koreans defected to South Korea in the first seven months of this year, up 15.6 percent from the same period last year, the unification ministry has said.
The seven-month figure marks a turnaround in the number of North Korean defectors, which had been shrinking since North Korean leader Kim Jong-un came to power in late 2011.
In the face of new U.S. sanctions against North Korea's human rights violations, which specifically targeted leader Kim Jong-un, Thae must have felt ever more inner conflict in his position to promote North Korea, Cheong Seong-chang, a researcher at the Sejong Institute said.
"In London, he may have been exposed to frequent criticism from Western countries … and that might have spawned psychological conflicts," the researcher said.