Samsung profit plunges
Forecasts 60 percent drop from last year in 3rd quarter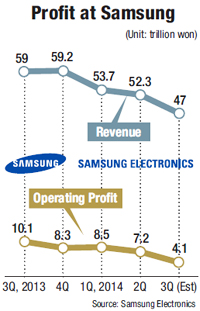 By Kim Yoo-chul
Samsung Electronics estimated its operating profit at 4.1 trillion won for the July-September quarter, a 60-percent drop from 10.2 trillion won a year earlier, on weaker smartphone margins.
This is the first time in more than three years that its quarterly operating profit has fallen below 5 trillion won.
In its quarterly earnings guidance issued Tuesday, it estimated its sales at 47 trillion won, down 20 percent. It is the first time that its quarterly sales have fallen below 50 trillion won since the second quarter of 2012.
The steep fall in operating profit was pretty much expected due to declining smartphone margins, and is largely in line with "lowered forecasts" by most industry analysts.
Samsung said its smartphone profits plunged due to weaker sales and increased marketing costs amid fiercer competition with Apple and budget Chinese rivals.
"The decline in average selling price (ASP) of smartphones reflects cuts in prices for old models and sluggish sales of premium products," it said.
Samsung remained cautious about the outlook for the remainder of the year.
"The thing is that we lack momentum for better earnings for the fourth quarter," said a senior Samsung executive.
Its mobile business is crucial as a fall in smartphones also means struggle in its display panel and memory chip businesses under its vertically integrated business structure.
Samsung hopes its chip division will make up for the dent caused by weak smartphone sales. It also expects its forthcoming Galaxy Note 4, diversified smartphone lineup towards low-end models and expansion of its profitable OLED display business to help boost its bottom line.
"The memory chip business benefited from strong demand for chip-embedded devices. Chip prices were stable and we reduced costs on higher productivity," the company said.
Analysts say Samsung may have to overhaul its strategies to regain growth momentum.
"Samsung's situation is graver than expected. It should put a greater emphasis on cost-cuts and review its business strategies from the zero-point," said Oh Sang-woo, an analyst at Leading Investment.
"What really matters is how Samsung will protect its falling market share in China and key emerging markets like India."
Analysts expect the display, television and handset businesses to remain weak in the fourth quarter. They said the only bright spot is the chip business as Samsung is one of the few winners in the market being controlled by Samsung, SK hynix and Micron Technologies.
"Prices for major memory chip products will remain strong for the fourth quarter, helping the corporation see a slight growth," said Hi Investment analyst Song Myeong-sup.
Samsung's earnings estimation came a day after the company announced a plan to invest 15.6 trillion won in Pyeongtaek, Gyeonggi Province, to build a chip plant by 2017.
Samsung did not specify whether it will carry out a share buyback program in the fourth quarter to help boost its shares.
"We have no comments on reports about Samsung buying back its own shares," the company said.
Samsung Electronics stock fared well despite the weak earnings guidance as this had been factored into share prices in recent sessions, analysts said.
The stock closed up 1.3 percent or 15,000 won at 1.166 million won, and the benchmark KOSPI closed up 0.42 percent or 8.18 points at 1,976.57.