Samsung, LG show off smart appliances at tech fair in Berlin
BERLIN, Sept. 1 (Yonhap) — Samsung Electronics Co. and LG Electronics Inc. displayed their latest developments, gadgets and smart home appliances at this week's consumer electronics fair in Berlin, according to company officials on Thursday.
Smart technologies and virtual reality put the spotlight on new products at the annual IFA fair, giving consumer electronics and telecommunications industries the chance to see the next stage of electronics.
The Berlin trade show, which runs through next Wednesday, is expected to bring together about 240,000 participants from around the world, according to the organizer's website.
Samsung introduced its new Gear S3 smartwatch, which features a mobile payment function, longer battery life and GPS capabilities.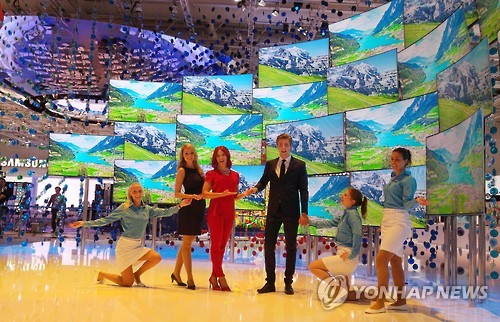 Besides the new smartwatch, Samsung has not launched any new products, but the company showed off ultra high-definition TVs, premium refrigerators and washing machines.
Samsung also announced a plan to boost partnerships with content providers in Europe to help increase sales of its ultra high-definition TVs.
"We are thrilled to work with amazing content partners, who share our mission of providing consumers with the best entertainment available," Lee Won-jin, executive vice president of Samsung said in a statement.
"With fresh UHD and HDR content debuting soon in the European market in the coming months, we are excited to offer consumers more of their favorite television shows and movies in the best picture quality," Lee said.
In addition, Samsung displayed high-end refrigerators that are connected with other devices via the so-called Internet of Things (IoT) technology.
The IoT technology, which connects objects to the Internet and allows them to send and receive data, is seen as a key evolution.
Among the products displayed by Samsung is a smart washing machine.
The new "AddWash" washing machine allows users to put extra items into the machine after a wash cycle has started, through a little window on the upper part of the main door, Samsung said.
LG's product line-up at the Berlin fair included premium air conditioners, ultra high-definition TVs, refrigerators and air purifiers.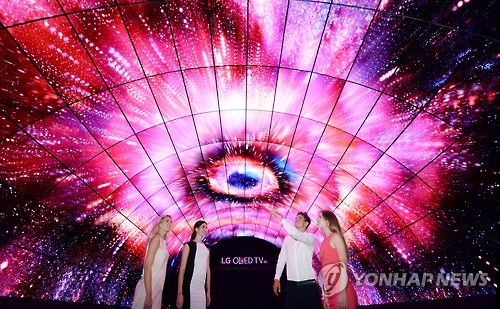 "Our stylish new air solution products are more efficient, perform better and are more family friendly than anything we've introduced before at IFA," said Jo Seong-jin, president of LG's home appliance business, in a separate statement.
"European consumers set the standard when it comes to energy efficiency and performance so IFA has become a bellwether for us in introducing advanced new appliances," Jo said.
Along with finished goods, LG plans to expand shipments of its components to European manufacturers by displaying electronic parts during the fair.
"In the wake of this IFA fair, we will actively make inroads into the global market for consumer electronic parts," said an LG official.