S. Korea's Kim Min-hee wins best actress in Berlin film fest 2017
BERLIN, Feb. 19 (Yonhap) — South Korea's Kim Min-hee has won best actress at the 67th Berlin International Film Festival for a film exploring the meaning of love through unconventional relationships.
She took home the Silver Bear for Best Actress on Saturday for "On the Beach at Night Alone," beating tough competition from 17 other films. She became the first Korean to clinch the honor at the Berlinale.
In the film, she plays the role of Young-hee, an actress pondering her relationship with a married movie director while drinking together with friends in a seaside town shortly after returning from a trip to Germany.
"This film will hopefully bring great emotions for those who see it and therefore I'm very proud of it," Kim said during her acceptance speech. "This award that I receive here and this happiness that I feel is all thanks to Hong Sang-soo, my director in this movie. I honor you, and I love you."
This is the renowned director Hong's 19th feature film and third foray to the Berlinale after "Night and Day" (2008) and "Nobody's Daughter Haewon" (2013).
"On the Beach" earned South Korea the first best actress prize in any of the top three European film festivals in 10 years. Jeon Do-yeon won best actress in the Cannes Film Festival in 2007 for director Lee Chang-dong's "Secret Sunshine." In 2010, Hong's "Hahaha" won the Cannes' fringe "Un Certain Regard" category.
The latest film has drawn much media attention for its story possibly based on the director's intimate relationship with Kim in real life and the main characters' conversations strongly advocating the relationship.
Hong, 57, and Kim, 34, have been engulfed in an extramarital relationship since last June. On Thursday, they made their first public appearance since the scandal broke out by attending a news conference for the new film at the Berlin festival. Neither of them have officially confirmed the reports but were spotted displaying some affection at the festival.
Hong filed for divorce from his wife in November.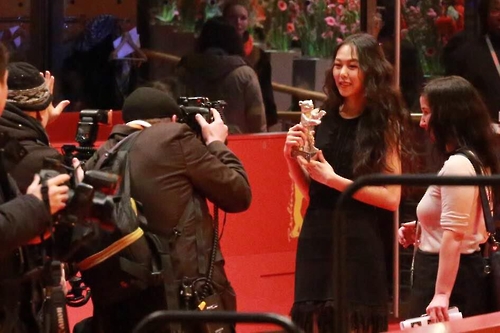 After gaining fame as a magazine and commercial model, Kim debuted as an actress for the KBS TV drama "School 2″ in 1999. She got her first lead role in the SBS TV series "Age of Innocence" in 2002 and has since appeared in various TV dramas and movies. Dogged by constant criticism of her poor acting performances, Kim was better known for her fashion styles as a former model.
In 2012 and 2013, however, she received great reviews and displayed great potential as an actress for her roles in the psychological thriller film "Helpless" by director Byun Young-joo and "Very Ordinary Couple," a romance film by director Noh Deok. Most recently, Kim walked on the red carpet at the 2016 Cannes Film Festival for her role in "The Handmaiden." She played Lady Hideko, a wealthy heiress who is seduced by a con man in the erotic thriller directed by Park Chan-wook of "Old Boy."
"On the Beach" is set to open in local theaters next month. It also stars Jung Jae-young, Kwon Hae-hyo, Song Seon-mi and Moon Seong-geun.
The 11-day Berlin festival closes Sunday.