POPE FRANCIS: THE WORLD'S AT WAR, BUT NOT A WAR OF RELIGIONS
KRAKOW, Poland (AP) — The world is at war, but it is not a war of religions, Pope Francis said Wednesday as he traveled to Poland on his first visit to Central and Eastern Europe in the shadow of the slaying of a priest in France.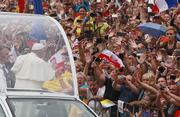 The killing of an 85-year-old priest in a Normandy church on Tuesday added to security fears surrounding Francis' five-day visit for the World Youth Day celebrations, which were already high due to a string of violent attacks in France and Germany. Polish officials say they have deployed tens of thousands of security officials to cover the event.
Francis spoke to reporters on the papal plane en route from Rome to Poland. Asked about the slaying of the priest, Francis replied: "It's war, we don't have to be afraid to say this."
After greeting reporters on his papal plane he returned to the topic to clarify that when he speaks of war, he is speaking of "a war of interests, for money, resources, dominion of peoples."
"I am not speaking of a war of religions. Religions don't want war. The others want war," Francis said.
Upon arrival at Krakow airport Francis was greeted by Poland's President Andrzej Duda, First Lady Agata Kornhauser-Duda and other state officials, and hundreds of faithful who had waited for hours to see him. Prime Minister Beata Szydlo knelt and kissed his papal ring.
After a brief ceremony Francis then traveled in an open car through the city, waving at cheering crowds as he headed to the Wawel Castle for the main welcoming ceremony.
There, President Duda, a Catholic hailing from Krakow, said that Francis is a "support, a road sign" in life for young people.
"The world today badly needs values, it needs faith and good, all of which your Holiness is bringing," Duda said in the presence of hundreds of state and city officials gathered in the castle yard. "We are all waiting for your word."
Francis then delivered a speech urging Polish authorities "to overcome fear" and show compassion to migrants.
It was a message that seemed clearly targeted to leaders of a nation that is deeply Catholic, but which is strongly opposed to accepting migrants, with fears running deep that Muslim arrivals could endanger the nation's security and Catholic traditions.
Noting that many Poles have also emigrated from their country, Francis spoke of the need to facilitate their return of any hope to repatriate, and understand the reasons that caused them to leave.
"Also needed is a spirit of readiness to welcome those fleeing from wars and hunger, and solidarity with those deprived of their fundamental rights, including the right to profess one's faith in freedom and safety," Francis told them.
Francis spoke of the need for international efforts to resolve the wars forcing so many people to leave their homelands.
"This means doing everything possible to alleviate the suffering while tirelessly working with wisdom and constancy for justice and peace, bearing witness in practice to human and Christian values," he said.
In the evening Francis is to appear in the window of the residence of Krakow bishops, where he will be staying, and chat with some among the hundreds of thousands of pilgrims from around the world gathered for the World Youth Day celebrations that will run through Sunday.
Just hours before Francis' arrival for the major Catholic event, groups of cheerful young pilgrims were seen in the streets of Krakow.
Relics of St. Mary Magdalene came to the St. Casimir Church from France for the duration of World Youth Day, and were displayed in a case by the altar.
"Their presence helps us concentrate on our prayers and brings us closer to God," said Nounella Blanchedent, 22, from the French Caribbean island of Guadeloupe.
She was one of the volunteers helping with security and logistics at the packed church, where a Mass was being held in French for pilgrims from France, Belgium and other countries.