NORTH KOREA VOWS IN UN SPEECH TO STRENGTHEN NUCLEAR FORCES
UNITED NATIONS (AP) — North Korea's foreign minister condemned the United States on Friday for flying supersonic bombers over South Korea earlier this week and vowed his country will strengthen its nuclear capabilities in defiance of multiple U.N. Security Council resolutions.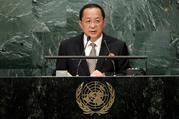 In a defiant speech before the U.N. General Assembly, Ri Yong Ho said the Korean Peninsula "has now been turned into the world's most dangerous hot spot which can even ignite the outbreak of a nuclear war." He blamed the United States and "its hostile policy" against North Korea.
Ri claimed that B-1B bombers the U.S. military flew over South Korea earlier this week crossed the demarcation line separating the two Koreas. The U.S. military has said at least one of two supersonic bombers that it flew over South Korea approached the border with the North Korea, an unusual occurrence in the world's most heavily fortified border.
The U.S. flyover was the second in as many weeks and came two weeks after North Korea conducted its fifth and most powerful nuclear test.
Ri said "the United States will have to face tremendous consequences beyond imagination."
He said the North "will continue to take measures to strengthen its national nuclear armed forces in both quantity and quality in order to defend the dignity and right to existence and safeguard genuine peace vis-a-vis the increased nuclear war threat of the United States."
North Korea's recent nuclear test, along with recent ballistic missile launches, have deepened concerns that it is moving closer toward obtaining the ability to put nuclear warheads on a variety of its ballistic missiles.
Speaking at a meeting with Southeast Asian foreign ministers Friday, U.S. Secretary of State John Kerry said that every country has a responsibility to vigorously enforce U.N. Security Council resolutions to ensure North Korea "pays a price for its dangerous actions."
Kerry also vowed that the United States would defend its own citizens against the North Korean threat and honor its security commitments to its allies.
Ri spoke days after the U.S., Japan and South Korea met on the sidelines of the U.N. General Assembly gathering to discuss ways to force North Korea to comply with the U.N. resolutions, which prohibit Pyongyang from conducting nuclear and missile tests.
The three countries discussed work in the Security Council to tighten the sanctions and the possibility of taking measures of their own to restrict revenue sources for the North's missile and nuclear programs.
Ri dismissed the Security Council resolutions as unfair.
North Korea "had no other choice but to go nuclear inevitably after it has done everything possible to defend the national security from the constant nuclear threats from the United States," he said.