N.K. says it will conduct nuke test when leader decides: report
SEOUL, April 14 (Yonhap) — North Korea's vice foreign minister said that the country will conduct another nuclear test at any time upon the leadership's decision, a news report said Friday.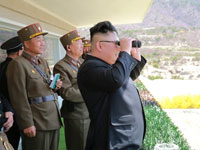 In an interview with the Associated Press, Vice Foreign Minister Han Song-ryol said that the situation on the Korean Peninsula was in a "vicious cycle," adding that Pyongyang won't tolerate a U.S. pre-emptive strike.
"If the U.S. comes with reckless military maneuvers then we will confront it with a pre-emptive strike" Han was quoted as saying by the AP.
"We've got a powerful nuclear deterrent already in our hands, and we certainly will not keep our arms crossed in the face of a U.S. pre-emptive strike," he said.
Han's remarks came amid heightened tensions that North Korea may carry out its sixth nuclear test or launch a long-range rocket in its key anniversaries in April.
Concerns are also growing that Washington may make a pre-emptive strike against the North to counter its possible provocations. The U.S. has sent the Carl Vinson aircraft carrier and its strike group near waters off the Korean Peninsula again.
U.S. President Donald Trump tweeted on Tuesday that North Korea is "looking for trouble." He added that the U.S. will resolve North Korea's problem alone if China does not help rein in Pyongyang's nuclear aspirations.
Han said that Trump's "aggressive" tweets were "making trouble," according to the report.
North Korea conducted two nuclear tests last year alone following those in 2006, 2009 and 2013. It has test-fired numerous ballistic missiles, including intermediate-range Musudan missiles.
North Korea has claimed that its development of nuclear weapons is a deterrent against what it calls Washington's hostile policy toward it.
South Korea strongly warned that a major provocation by the North would invite "unbearably" strong punitive measures.
"If the North goes ahead with provocations such as a nuclear test or ICBM launch, we warn again that its regime will surely face unbearably strong punitive measures," the foreign ministry in Seoul said in a statement.
"The government is having necessary consultations with relevant countries including the talks held with China's nuclear envoy Wu Dawei this week to discuss stern reactions to the North's additional strategic provocations," it added.