LA AUTHORITIES BOOST SECURITY AFTER THREATENED RAIL ATTACK
LOS ANGELES (AP) — The FBI said Tuesday it found no evidence that a bomb threat which prompted heightened security at a Los Angeles subway station was real and the anonymous caller who made it may have reported similar phony threats in the past.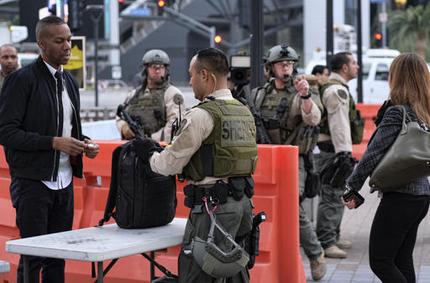 However, Los Angeles police and Los Angeles County sheriff's deputies remained on "a heightened state of awareness," FBI spokeswoman Laura Eimiller said in a statement Tuesday night.
Heavily-armed deputies stood watch Tuesday at the Universal Station of the Metro Red Line after a threat that said some event would happen that day.
Mayor Eric Garcetti, who took the commuter train to work from the station as a show of confidence, said the warning was made anonymously to an overseas tip line.
"So this threat did not come from a person directly," he said. "It came from a person who said they knew of a person."
The mayor didn't provide details, but Los Angeles police Cmdr. Horace Frank said the threat was sent to a public safety line by someone in Australia who specifically mentioned that an "explosive device" would be detonated at the station on Tuesday, City News Service reported.
Temporary barriers were in place at the entrance to the Red Line station near Universal Studios and some commuters were subjected to bag searches as deputies stood by with rifles and dogs.
Nothing happened by Tuesday night, and the FBI said there was no evidence of a credible threat.
"Based on significant similarities, law enforcement partners also believe the anonymous caller may have, on a previous occasion, reported threats that did not materialize," Eimiller said.
Information about the potential threat was relayed to the FBI's Joint Terrorism Task Force from international partners Monday morning and was publicly revealed in a Monday night press conference.
Area U.S. Rep. Adam Schiff, ranking Democrat on the House Intelligence Committee, said he was briefed by law enforcement about the threat.
"While the threat is still under investigation, law enforcement and local officials acted appropriately by alerting the public promptly, increasing security and urging residents to go about their normal daily business," he said in a statement that recalled a threat that closed the Los Angeles Unified School District last December.
"If it turns out to be a hoax like the prior threat against the LAUSD, it will represent another profound example of the extraordinary cost imposed on communities throughout the United States by such actions," Schiff added.
The Universal City Red Line station is adjacent to the studio theme park, the Universal CityWalk entertainment district, hotels and office buildings.
The line carries commuters from the San Fernando Valley to Union Station in downtown Los Angeles. About 150,000 riders a day take it and the Purple Line, which covers some of the same route.