Korilla takes a bite out of Big Apple
Columbia grad's food truck is a huge hit on the streets of New York City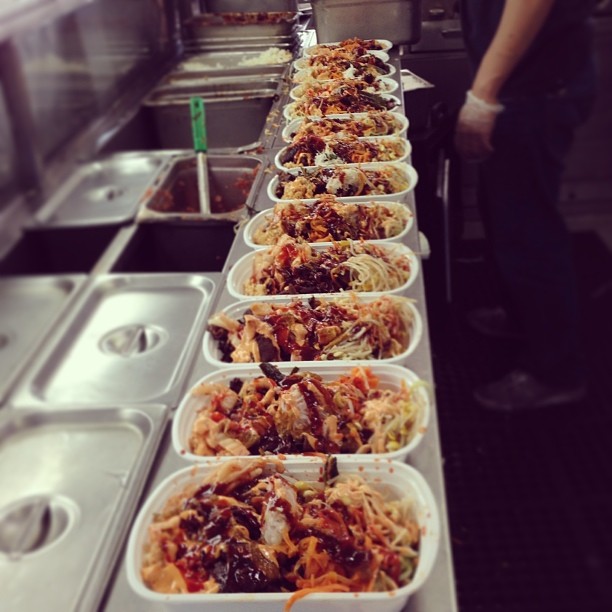 This is the first in a series featuring some of today's most popular Korean food trucks in the U.S.
By Jane Han
NEW YORK — If there's Kogi on the West Coast, then there's Korilla here in the East.
In Manhattan, the tiger-striped food truck is a godsend that introduced New Yorkers to the world of Korean-Mexican fusion.
But don't dare to compare the two – Korilla is not Kogi, nor is it like any others, says Edward Song, mastermind and founder of Korilla BBQ.
"Korilla operates on a different motive, objective and altogether priority than any other food truck," he said in an interview with The Korea Times. "We're not here to franchise, support a family, or even get recognized."
In other words, Song stressed, money is not the primary motive.
"I'll let the Wall Street bankers, private equity shops and restaurant groups make it their prerogative," said the 28-year-old, who, despite seemingly uninterested in money, made a huge hit on the streets of New York City with his own concoction of Korean and Mexican flavors.
At Korilla, it's all about bowls and burritos.
First, you pick your choice of vehicle to carry what's about to be a giant pile of food. Next, you choose a protein from a selection of ribeye bulgogi, spicy pork, chicken and homemade tofu, and then comes the spread of rice, kimchi, cheese and veggies, all topped off with your choice from one of Korilla's secret sauces.
The result? Food heaven.
No wonder even busy New Yorkers look so eager to wait in line at Korilla for more than 15 minutes.
Since opening in the fall of 2010, Korilla is known for their super long lines, as much as they're known for being fast and furious.
"I still remember our first day," recalled Song. "The line was a length of an NYC street block, probably 80 deep all day."
Korilla's quick success almost makes it seem like Song was born to be in the food business. That wasn't quite the case, but he had what it takes.
A graduate of the prestigious Stuyvesant High School and Columbia University with a degree in Economics and Mathematics, Song definitely had the brains for success – just not in the industry he thought he would.
"Korilla was born out of the recession," said Song. "My degree from Columbia was worth as much as the paper it was printed on."
"I don't disdain the corporate life. It's just that I thought, why not seize an opportunity when the world is turned upside down," he said. "I sought for a project that brought out nostalgia and passion, and for me, that was a restaurant concept."
Song first explored the idea of running a build-your-own-kimbap operation, until he ditched that thought to jump on the Korean-Mexican bandwagon.
"I'm no dummy," he said. "Korean food is on the come up and the food truck trend was a perfect way to catapult Korilla into the hearts of many fans past, present and future, domestic and international."
And so Korilla BBQ finally began roaming the streets of New York.
From blocks away, the bright orange and black Korilla truck is loud and obvious.
The tiger-striped truck is in reference to the Korean tiger, Song explained. But despite people's assumption that the word Korilla comes from the words "Korean'' and "grill,'' Song says the origin of the name of Korilla is still a mystery to this day.
Who cares anyway?
"Our style is loud, disruptive and raw," said Song, who now operates three trucks throughout the city and continues to eye expansion.
"I believe we've come and we've conquered the streets of NYC," said Song, who took home the coveted Vendy Award for Rookie of the Year in 2011. "Now it's time to grow up and enter a brick-and-mortar establishment."
He can't talk details yet, but New Yorkers should be able to expect something soon.
Whether it be on a truck or in a restaurant, Korean food is one thing and one thing only for Song.
"Korean food to me is Korilla, which is naturally healthy and delicious," he said, confidently. "That's actually our mission statement. It's probably the most uncool thing I've ever said, but I stand by it 100 percent."