IF TRUMP CAN'T GET ALONG WITH GOP, HOW WILL HE GOVERN?
WASHINGTON (AP) — Beyond the immediate fallout from his rocky relationship with party elders, there's a longer-term reality for Donald Trump: Should he win the presidency, he'll have to work closely with the same GOP leaders he's vilified on the campaign trail.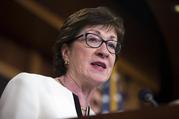 He has taken modest steps in recent days to ease tensions, yet a growing chorus of experienced Republicans is warning that the billionaire businessman's brash and divisive approach will make it difficult for him to govern effectively.
"He hasn't been able to get along with his own party as the nominee. How is he going to get along with them when he has to govern?" asked Rick Tyler, a former aide to Ted Cruz's presidential bid. "If Trump can't get along with the sitting speaker, and has poor relationships with sitting members of the Legislature, the idea of fashioning a conservative legislative agenda seems to me virtually nonexistent."
Tyler may not be an impartial observer. But it seems clear that Trump's turbulent relationships with Republican leaders could take on greater significance after Election Day.
A President Trump may need Cruz – or "Lyin' Ted" as Trump calls him – to help confirm his Supreme Court picks. He may need Florida Sen. Marco Rubio – or "Little Marco" – to help implement his immigration priorities. And President Trump's broader governing agenda will surely require the cooperation of House Speaker Paul Ryan, whom Trump thrust into a political firestorm a week ago by refusing to endorse him.
Trump ended that feud by endorsing Ryan late Friday – along with Arizona Sen. John McCain and New Hampshire Sen. Kelly Ayotte – after four days of manufactured chaos, but the episode left bad blood.
A steady stream of defections has continued, with longtime Republican officials and policy experts vowing not to vote for the GOP nominee. They include Maine Sen. Susan Collins, a four-term Republican senator, who announced Monday she could not support Trump and "his constant stream of cruel comments."
"Donald Trump does not reflect historical Republican values nor the inclusive approach to governing that is critical to healing the divisions in our country," Collins wrote in The Washington Post.
She is not alone.
Several Republican senators, including Ben Sasse of Nebraska and Mark Kirk of Illinois, have said they won't vote for Trump. Others, such as Jeff Flake of Arizona and Mike Lee of Utah, have so far refused to endorse him.
Trump's team says it's not for lack of effort by the candidate.
One early backer, Rep. Chris Collins, R-N.Y., notes that Trump has made multiple trips to Capitol Hill to talk to his critics. He says there's only a handful of holdouts.
"Once Mr. Trump is the president of the United States and shows that willingness to reach out, and not be dictatorial, but rather collaborative, I think they may just disappear automatically," Collins said of the Republican critics. "I think it's going to be a very collaborative effort."
Yet Trump has shown little ability to moderate his approach for any significant period of time.
After pummeling Cruz with personal insults during the primary season, Trump resurrected a conspiracy theory linking Cruz's father to the assassination of President John F. Kennedy the day after the Republican National Convention.
A demonstrated expert in parliamentary obstruction tactics, the Texas senator sits on the powerful Judiciary Committee, which has the power to endorse or reject Supreme Court nominees before they are reviewed by the full Senate. The next president may well need to fill more than one court vacancy.
Beyond Cruz, the committee features several other GOP critics: Lee, Flake and South Carolina Sen. Lindsey Graham.
"Donald Trump shows no sign of being able to reach out to people who have been his adversaries," said Vin Weber, a former Minnesota Republican congressman who is refusing to vote for Trump.
It's unclear to what extent a frustrated Trump might turn to executive actions should Congress reject his wishes.
The Republican nominee has railed against President Barack Obama's use of executive orders, yet Republican skeptics fear Trump might trigger what Weber called a "constitutional crisis, or at least a constitutional confrontation" should Congress deny his priorities.
Trump would have little time to address his governing challenge.
As president, he would have just 73 days – the time between Election Day and the inauguration – to find roughly 4,000 high-level staff members to run the most powerful government in the world. They won't include 50 Republican senior national security leaders who signed a letter this week warning that he "would be the most reckless president in American history."
Asked about the letter, Trump lashed out at the group, many of them veterans of the George W. Bush White House, as being "Washington, establishment people" who have done "a terrible job."
Still, a Trump ally, Rep. Peter King, R-N.Y., said things seem to be moving in the right direction after a "tough week" with "a lot of self-inflicted wounds."
"If he wins, it'll be good, despite what might be happening now," King said.