EXO triumphs with new album, adds encore concert to schedule
SEOUL, July 1 (Yonhap) — South Korean boy band EXO added an encore concert to the original five-concert run amid the rising popularity of its chart-sweeping new album, the group's agency said Friday.
"EXO Planet #3 – The EXO'rdium" was originally slated to take place on July 23-24 and 29-31 in the Gymnastic Stadium in Seoul's Olympic Park. After strong demand for an additional concert, S.M. Entertainment decided to hold one more on July 22.
The addition makes EXO the first K-pop group to hold concerts in the Gymnastics Stadium six straight times for a single project. With the capacity to accommodate more than 10,000 spectators, the arena has been one of the top venues for South Korean idol groups.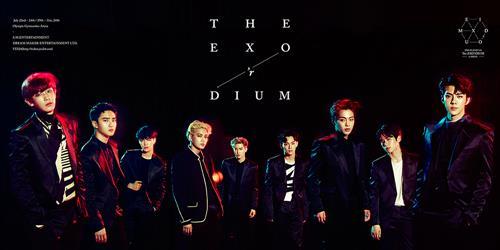 Tickets for the July 22 encore concert will go on sale Tuesday at 8 p.m. at the online ticket website Yes24.com.
EXO has flown high in the K-pop scene ever since the release of its third and latest full-length studio album "EX'ACT" on June 9.