Clinton, Trump target different Americas in final push
ATKINSON, New Hampshire (AP) — Donald Trump and Hillary Clinton charged through vastly different corners of America Friday hunting for vastly different voters in a final, frantic push that traced the country's geographic, racial and economic divides.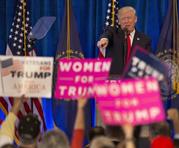 Clinton and Democratic allies bounced from city to city across battleground states, using star power and stark warnings to fire up her base of African-American, Hispanic and female voters. She was to campaign in urban centers of Detroit, Pittsburgh and Cleveland on Friday while President Barack Obama was heading to Charlotte, North Carolina – all cities where minority voters are crucial.
Clinton's campaign has also announced two more stops in Philadelphia before Tuesday.
Trump, meanwhile, is on a tour of rural America, hoping to boost turnout among the white, working-class voters drawn to his promise to bring back a lost America. Trump started his day Friday in Atkinson, New Hampshire, population 6,800. From there, he was bound for Wilmington, Ohio, a community more than an hour from Cincinnati.
In spite of a close race in national polling, Trump's path to victory remains narrow. For example, he must win Florida, where polls show a neck-and-neck race. His campaign is increasingly looking to make up for losses among suburban voters, particularly women, by wrestling up new voters in out-of-the-way places.
The candidates' divergent paths highlighted the yawning gaps between race, place and economics that drive presidential policies.
Trump told his largely white audience in Atkinson that "we have to rebuild our country."
"They've shipped our jobs and they've shipped our wealth to other countries," he said. "To all Americans, I say it is time for new leadership."
Trump's dark views on the economy clashed with a new jobs report showing the unemployment rate declined to 4.9 percent while wages went up in October. The report marks 73 straight months of job growth.
But the Republican said the numbers weren't good enough, and he cast doubt on whether they were accurate.
"These numbers are an absolute disaster," Trump said, reviving his argument that the unemployment numbers released every month by the Labor Department are skewed because they don't accurately account for those who've dropped out of the workforce.
"Nobody believes the numbers they're reporting anyway," he said.
As he spoke, Clinton campaigned in Pittsburgh, delivering a nearly opposite message. She celebrated what she described as the Rust Belt city's rebirth of "confidence" and economic renewal. She asked voters to "imagine two different Americas" – one with Trump in charge, and one with her in the White House.
"Think about what it will be to trust the nuclear codes to someone with a very thin skin," she said, adding Trump could "start a real war, not just a Twitter war at 3 in the morning."
Clinton called the jobs report "good news."
"I believe that our economy is poised to really take off and thrive," she said. "When the middle class thrives, America thrives."
Pennsylvania is a state where Clinton has long had a solid lead; it has not voted for a Republican in six presidential elections. But with polls tightening across battleground states, Democrats are taking little for granted. Former President Bill Clinton worked to drive up turnout in Colorado on Friday, while Vice President Joe Biden was due in Wisconsin, both states Clinton was believed to have locked up weeks ago.
Clinton herself was to wrap her day in Cleveland at a get-out-the-vote rally with hip-hop artist Jay-Z.