FLORIDA AGAIN? IN FINAL CAMPAIGN DAYS, STATE MAY BE PIVOTAL
MIAMI (AP) — After a year crammed with political shocks and head-scratchers, the contenders find themselves in the final days in a most familiar swing state. That's Florida.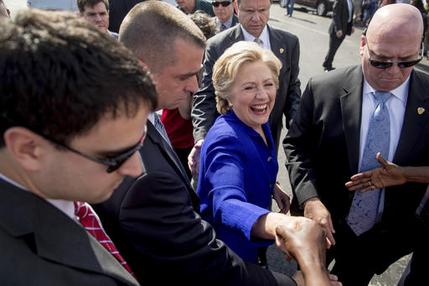 Donald Trump has relentlessly campaigned in the state and was embarking Wednesday on his third multi-day visit in recent weeks. Hillary Clinton has also been a frequent visitor in the campaign's closing days, spending last weekend in the Sunshine State and then returning on Tuesday.
Trump can't win without carrying Florida, so Clinton can deliver a knockout blow if she captures the state's 29 electoral votes.
But Democrats are increasingly concerned about black voter turnout after some early voting numbers showed a drop-off from 2012, when president Barack Obama was on the ticket. If that decline holds true, it complicates the party's path in other states, too, including North Carolina, Pennsylvania and Michigan.
Clinton's campaign has announced plans to campaign in Detroit and Cleveland on Friday, two cities where African-American turnout is crucial.
Obama, meanwhile, was hosting a rally with singer-songwriter James Taylor in Chapel Hill on Wednesday, the first of two visits he's planned this week. Early voting in North Carolina shows a 5 percentage point drop in ballots from black voters.
"I know there are a lot of people in barber shops, in beauty salons, in the neighborhoods who are saying to themselves, you know, we love Barack, we especially love Michelle, so it was exciting, and now we're not excited so much," Obama said on the "Tom Joyner Morning Show."
"I need everybody to understand that everything we've done is dependent on me being able to pass the baton to somebody who believes in the same things I believe in."
Even with national polls narrowing, Clinton has many more paths to 270 electoral votes and victory than Trump. Her campaign is underscoring that political reality with a stop in Phoenix on Wednesday, a state that has voted for Republican presidential candidates all but once since 1952. Democrats are also trying to shore up their support in more favorable states, with a super PAC backing Clinton announcing plans to spend at least $1 million on final-days ads in Michigan and Colorado.
Both candidates are scrambling to keep up with shifting events. Bill Clinton and Tim Kaine canceled an event in Iowa, a state her team has long believed it was unlikely to win, after the shootings of two Des Moines-area police officers.
But Florida remains the electoral map's biggest prize.
The state has been deluged with $125 million in general election presidential ads – by far the most of any state. As is the case across the country, Clinton has more than doubled the amount of money that Trump has on the air here.
Last week, Trump barnstormed across the state over three days, campaigning along the crucial I-4 corridor, drawing more than 15,000 people to a massive rally in Tampa and even making a stop in the state capital of Tallahassee, a blue-leaning college town.
On Wednesday, he was to hit three cities – Miami, Orlando and Pensacola – and will follow that up with a stop in Jacksonville the following day. Trump often calls Florida his "second home," as he's staged events at both his Mar-a-Lago location and his golf course outside Miami, where last week he held a clumsy event with his employees, many of whom are Latina women, in a nod to the state's sizeable Hispanic community.
But the Trump campaign's major play is to white voters, from the conservative panhandle to working-class inland areas to the state's huge senior citizen population. The hope is that a big turnout there could counteract Clinton's strength among the state's growing Latino population – and that there will be depressed turnout from black voters in cities like Orlando, Tampa and especially the Miami area.
Clinton is trying to guard against that possibility, urging supporters to cast their ballots early, eager to bank as many votes ahead of Election Day as possible.
On Saturday, she appeared at a packed Miami concert with singers Jennifer Lopez and Marc Anthony that drew a young, heavily Hispanic crowd. She spent Sunday at a soul food restaurant and a black church. On Tuesday, she traveled with Georgia Rep. John Lewis, a civil rights hero, who reminded Clinton supporters of the struggle to secure the right to vote. And on Wednesday morning, she stopped at an early voting state in a largely Caribbean-American neighborhood.
"We must get out and vote like we've never voted before," Lewis told a crowd of about 4,000 people in Ft. Lauderdale. "Don't let anyone keep you home."
Vice President Joe Biden will be campaigning in Palm Beach Gardens and Tampa on Wednesday
Clinton is expected to return to Florida before Election Day. So will Obama, visiting Orlando on Sunday, the final day of early voting in the state.