After YOLO, thriftiness spreads in S. Korea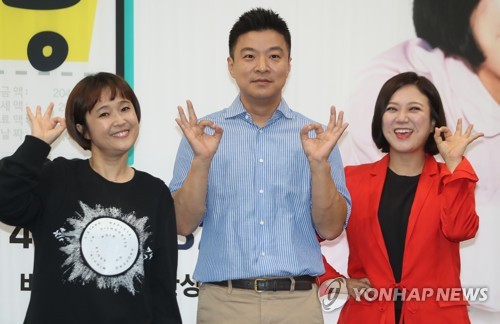 SEOUL, Sept. 29 (Yonhap) — Kim Saeng-min, a South Korean comedian who had been out of the spotlight since his debut in 1992, is one of the most popular celebrities in the country at the moment.
It did not take three months for Kim, who had remained in supporting roles for over two decades, to rise to stardom after he launched a podcast "Kim Saeng-min's Receipt" in June.
During the one-hour program co-hosted by two female comedians, Kim analyzes monthly account books sent from listeners and mercilessly scolds them for any extravagant consumption. It is top ranked among all podcasts in the country as of Thursday.
Amid a prolonged economic slowdown, Kim is at the forefront of promoting the virtue of living a frugal life, and in an entertaining way, after the YOLO — You Only Live Once — boom that swept the country.
"I started listening to Kim's podcast as everybody on the Internet was talking about it," 43-year-old housewife Kim Eun-young said in a recent interview with Yonhap News Agency.
"What struck me was that the program was about how to save money, how to avoid excessive spending when everybody else in the media was talking about where to spend money," she said.
As a mother of a 4-year-old daughter in a single income family, Kim often felt alienated to see people spending money as if there is no tomorrow.
"After the birth of our daughter, our goal is just to stay out of the red, and to do so, we really need to tighten our belt," she said. "I was relieved, or comforted in a way, to know that we were not the only ones living like this."
YOLO, which was first featured in a song by Canadian rapper Drake in 2011, caught on here after appearing on a popular reality TV show early last year.
Companies were quick to commodify the concept and started using the phrase to encourage consumption and advertise products, holding various discount events and fairs under the theme of YOLO.
According to a survey by a local research company Embrain, 70.6 percent of respondents said the phrase has been too commercialized and 55.9 percent said the concept fosters excessive consumption. The poll was conducted from July 27-31 on 1,000 respondents aged between 19 and 59.
The term is now synonymous with spending money for the joy of the present moment instead of saving it for the future.
YOLO followers ask what the point of saving money for the future is if they cannot even buy a house of their own with the money they earn.
Lee Mi-ji, an ordinary office worker with a 2 million won (US$1,700) monthly salary, however, thinks it is better to save as much as she can.
"I once tried to live the YOLO way, just like everybody else, getting my nail polished, buying new cosmetics items and so on, but I just could not live up to it," she said.
"The soaring house prices do make me think that it is impossible to afford one without loans, unless I win the lottery, but I still think it is better to do my best to reduce the amount of money I have to borrow," said Lee, another fan of Kim's podcast.
Professor Lim Woon-taek at Kiemyung University in Daegu, 300 kilometers southeast of Seoul, says the YOLO boom and Kim syndrome are "two sides of the same coin."
"When the economic condition is unclear, people tend to make radical decisions," the scholar said. "The YOLO boom and popularity of Kim's podcasts are both reflections of South Koreans' anxiety about the future."
According to the data from the Bank of Korea (BOK), the country's overall household debt has been on a steep rise reaching a record 1,388.3 trillion won as of end-June, up 10.4 percent from a year earlier.
Experts say South Korea is expected to face difficulty in achieving an annual economic growth of 3 percent in the coming years.
Last year, the country's income disparity widened despite the government's efforts to narrow the gap between the rich and poor. Those in the top 20 percent income bracket had nine times more earnings than those in the bottom 20 percent last year, according to the data compiled by Statistics Korea.
Some experts say it remains to be seen whether this "thriftiness boom" triggered by the unique podcast will lead to actual rise in savings or people settling for a frugal lifestyle.
"While YOLO has been somewhat exploited by companies, it is also true that it has been accepted by many South Koreans as a cultural code of living the present instead of putting too much weight on the future," said professor Koo Jeong-woo at Seoul-based Sungkyunkwan University. "We'll have to see where this recent popularity of Kim's podcast heads to."