Won surges to two-year high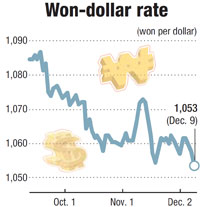 By Na Jeong-ju
The won's value against the dollar surged to the highest level in two years and four months Monday, as more traders bet on Korea's growing current account surplus.
The won ended at 1,053 won per dollar, up 5 won from the previous close. That's the highest point since Aug. 2, 2011, when the won traded at 1,050.8 won.
The won surpassed a yearly high of 1,053.4 won, tallied on Oct. 24, as soon as the market opened. At one point, the won surged to 1,052 won.
The won's strength has sparked concerns that Korean products will lose price competitiveness in the global markets amid the yen's weakness.
The Japanese currency traded at 102.97 yen per dollar as of 3:30 p.m., down 0.11 yen from the previous close.
"Demand for won is surging in the local currency market amid predictions that the United States may delay the tapering of its monetary stimulus," a currency dealer said. "Traders are also increasingly betting on Korea's current account surplus, which has increased in recent months despite the won's strength."
The dealer, however, forecast the won won't be able to surpass the psychological limit of 1,050 won by year's end due to the government's toughening stance on the won's gain.
Korean officials have repeatedly indicated that they will take measures to stem the won's rise.
The gain is feared to dampen Korea's recovery momentum and increase volatility in the currency market. The stronger won has cut the earnings of Korean exporters and damaged their price competitiveness in global markets.
Analysts say the won's recent strength reflects the country's growing current account surplus and foreign investment in Korean stocks.
Seoul shares surged on strong buying by foreign investors and institutional investors.
The benchmark Korea Composite Stock Price Index (KOSPI) rose 19.97 points to close at 2,000.38.