US EMPLOYERS ADVERTISED MORE JOBS AND BOOSTED HIRING IN JUNE
WASHINGTON (AP) — U.S. employers advertised more openings and hired more people in June, adding to evidence that the job market has rebounded from a brief soft patch in the spring.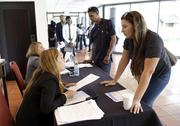 The number of job openings rose a modest 2 percent to 5.6 million in June from 5.5 million in May, the Labor Department said Wednesday. Still, that figure remains below the 5.8 million openings advertised in April, the highest on records going back 16 years.
Hiring increased 1.7 percent in June to 5.1 million, a solid level but below a recent peak of 5.5 million in February.
Businesses are hiring at a healthy pace even as economic growth has lagged, in part because the workforce has become less productive. The economy expanded at an annual rate of just 1 percent in the first half of the year, though analysts expect growth to accelerate to about a 3 percent annual rate in the current July-September quarter.
Still, with more Americans earning paychecks, spending and growth could strengthen in coming months.
The pace of job openings has leveled off this year, though at a healthy level. Most economists aren't concerned by the trend.
"We see no sign of any downturn, suggesting employers remain fundamentally bullish," said Ian Shepherdson, chief economist at Pantheon Macroeconomics, a forecasting firm.
The figures released Wednesday provide a more detailed reading of the job market than the government's monthly employment report contains. The government previously reported that U.S. employers added a net total of 292,000 jobs in June, the most in eight months.
Hiring was also strong in July, when a net total of 255,000 jobs were added, the government said Friday. The unemployment rate remained at a low 4.9 percent.
Wednesday's figures track gross hiring in June, as well as job openings, and come from a report known as the Job Openings and Labor Turnover survey, or JOLTS. The monthly jobs report that was released Friday calculated a net total of job gains in July after subtracting those who quit, retired or were laid off.
The job market's health is a key factor in the Federal Reserve's deliberations over when it will next raise the short-term interest rate it controls. Fed officials noted after their most recent meeting in July that hiring has picked up and that the number of people seeking work has fallen.
Friday's robust jobs report for July slightly increased the likelihood that the Fed will raise rates at its September meeting, though most economists say they think the Fed won't move until December.