Trump says he would accept N. Korean leader to U.S. for negotiations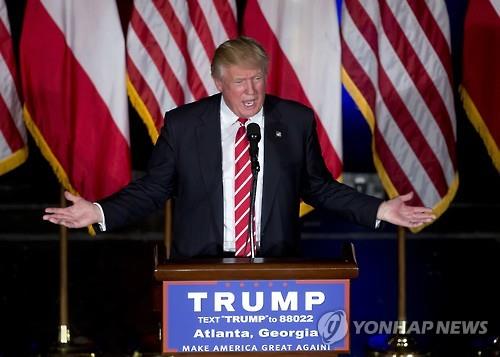 WASHINGTON,  (Yonhap) — Republican presidential candidate Donald Trump said Wednesday he would "accept" North Korean leader Kim Jong-un to the United States and hold nuclear negotiations with him while eating hamburgers, according to news reports.
"If he came here, I'd accept him," Trump said during campaigning in Atlanta, reaffirming his willingness to meet with the North's leader, according to reports. "Who the hell cares? I'll talk to anybody."
Trump first expressed his willingness to meet with Kim in an interview last month, drawing criticism not only from critics, but also from his own party that such a meeting would end up bolstering the dictator.
But while Trump has insisted on his willingness to speak to the North's leader, but said he won't go to the North for such talks.
Should Kim visit the U.S., Trump said he won't throw him a state dinner.
"I wouldn't give him a state dinner like China or all these other nations who are ripping us off," Trump was quoted as saying. "We should be eating a hamburger on a conference table and making better deals."
Trump said he will only "make a good deal" if he were to hold talks with the North's leader.
The real-estate tycoon was also quoted as saying that there's a "10 percent or 20 percent chance" he could talk Kim out of developing nuclear weapons.
Maximizing U.S. interests through negotiation is the No. 1 point in Trump's "America First" foreign policy. Trump and aides have repeatedly emphasized the businessman is an excellent negotiator and is ready to use the skill to regain American interests lost under Democratic administrations.
Trump has expressed negative views of the North's leader, describing him as a "total nut job" and a "madman playing around with the nukes." But he also said early this year it was "amazing" for the young leader to keep control of the country.