STUCK: LONDON COMMUTERS FACE STRESS IN SUBWAY STRIKE
LONDON (AP) — Millions of commuters cycled, trudged and waited in snaking bus queues Monday as a strike by London Underground station staff shut down much of the city's subway network.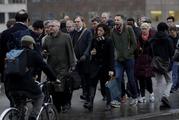 Scores of Tube stations and many of the city's subway lines were closed during the morning rush hour, forcing Londoners to walk, use overcrowded buses, seek scarce taxis or work from home.
Some took to bicycles, weaving through slow-moving traffic.
"It is really scary out there, cyclists are taking huge chances," doctor Simon Quantrill said. "The traffic is mad."
Huge lines for taxis formed at major railway stations as people tried to continue their journeys. One busy station, Clapham Junction, was evacuated because of severe overcrowding.
The 24-hour strike is due to end at 6 p.m. (1800 GMT), but Transport for London said service wasn't expected to get back to normal until Tuesday morning.
Transport unions are protesting job cuts and ticket-office closures, citing safety issues.
"This action has been forced on us by savage cuts to jobs that have reduced London Underground to an under-staffed death trap at a time of heightened security and safety alert," said Mick Cash, general secretary of the Rail, Maritime and Transport Union.
While acknowledging some issues needed to be addressed on the network, London Mayor Sadiq Khan described the strike as a "completely unnecessary" action that was causing inconvenience across the city.
"Why strike?" Khan told the BBC. "Why not resolve these things amicably?"
London's subway system handles more than 4 million journeys during a typical business day.