STRICKER FELT BOTH SIDES OF POWERFUL RYDER CUP ALLURE
NORTON, Mass. (AP) — The Ryder Cup loss at Medinah is what accelerated Steve Stricker's plan to reduce his schedule after 2012.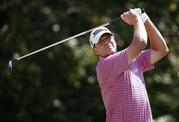 And it was the Ryder Cup that caused him to fill up his schedule again.
Stricker was not planning to play in any of the FedEx Cup playoff events. His primary goal this year was to finish in the top 125 in the FedEx Cup so he would be eligible for The Players Championship and other tournaments that he enjoys playing.
So what was he doing at The Barclays and the Deutsche Bank Championship?
"There's only one reason I'm here," he said over the weekend at the TPC Boston, "and that's to try to make that Ryder Cup team."
Stricker felt he was a long shot, but he said U.S. captain Davis Love III, assistant captain Tom Lehman and Phil Mickelson kept encouraging him to play. Stricker birdied the last two holes at The Barclays to make the cut, birdied the 72nd hole to assure he would get to Boston and was in position to advance to the third playoff event at Crooked Stick until he closed with a 73.
He all but ruled himself out if he didn't make it to the BMW Championship, suggesting it would be hard to pick a 49-year-old who didn't qualify for the last two FedEx Cup playoff events. Love won't announce his three captain's picks until Monday.
Stricker went 0-4 at Medinah in 2012 when Europe rallied from a 10-6 deficit to win the cup. Stricker made a clutch 10-foot par putt on the final hole, but he had to watch Martin Kaymer make his putt to halve the hole and assure Europe would keep the cup.
And he took it personal.
"That took a lot out of me. It put a sour taste in my mouth," Stricker said. "I wasn't too keyed up on the golf and playing a lot. I wanted to be home and do different things. I felt responsible. I played four times and didn't win a point. It was tough to swallow."
He will be in Hazeltine as an assistant captain, just as he was for Tom Watson at Gleneagles in 2014. But it was fascinating to see Stricker go from such a bad experience at one Ryder Cup to adding tournaments to his schedule for a chance to play again.
His 15 PGA Tour starts this year were his most since he played 20 times in 2012.
"I guess I wanted to give it one more shot," Stricker said.
He is honest to a fault. Stricker said he had several conversations with his wife, Nicky, about whether it would be prudent to pick him even if he made it to the Tour Championship. He looked at himself as a 49-year-old who failed to qualify. She said he wasn't giving himself enough credit.
"She's trying to fire me up and I'm trying to beat myself down," Stricker said with a laugh.
Not making it to Indiana for the BMW Championship was hardly the end of the world. Stricker is in The Players Championship, where his daughters love going because they rent a house on the beach. And he gets to stick to his original plan for next week, anyway.
He's going elk hunting.
—
WALKER'S TURNAROUND: Jimmy Walker had gone 11 straight tournaments without a top 10 when he showed up at Baltusrol and went wire-to-wire at the PGA Championship for his first major and only victory this year.
Out of nowhere? Not really.
Walker traces his victory to the back nine of the RBC Canadian Open, where he closed with a 68.
"I felt like I keyed in on some good stuff in Canada. I started to drive it really well – a nice, tight draw," he said. "Sunday on the back nine, I felt like it came together. I thought, 'This felt awesome.'"
That was the start. Walker played a few nine-hole matches with Rickie Fowler at Baltusrol, hopeful of taking the good form from Canada into the final major. And he did.
It was another reminder of how quickly fortunes can change.
The Deutsche Bank was an important week. Walker missed the cut in his next two events, leading to speculation the PGA Championship was an exception to how he was playing. Walker was a top contender all week at the TPC Boston, doing everything well except making putts. He still finished in third place.
Walker attributed the missed cuts to taking some time off to enjoy his first major, "which we needed to do." And his finish in Boston was a sign he is coming back into form.
—
RORY'S CRITIQUE: Rory McIlroy does not mind hearing criticism, provided the foundation is factual. That would be just about everything golf-related. The one criticism that got under his skin was that he was spending too much time in the gym.
"If I wasn't in the gym, I wouldn't be here sitting today," McIlroy said after winning the Deutsche Bank Championship. "It's a big part of who I am, it's a big part of my success. That's always I feel an unfair criticism."
McIlroy said the critics, particularly on television, at least are educated in golf and "for the most part know what they're talking about."
"A criticism of my golf game, I take it, and I know what I need to work on and sometimes those people point out the obvious," he said. "But yeah, I would say that's the most unfair criticism I receive is what I do in the gym."
—
SCOTT'S BREAK: Adam Scott will play the Tour Championship at the end of the month and then most likely not show up on the PGA Tour until Riviera. Yes, there will be a long break. And there will be plenty of travel.
Scott said he plans to start his new PGA Tour season in Malaysia and Shanghai, just like last year, and then go home to Australia for three events, including the World Cup at Kingston Heath.
The surprise is that he does not plan to be at Kapalua for the Tournament of Champions. Instead, Scott will play in the Singapore Open on Jan. 19-22, a tournament he has won three times.
—
DIVOTS: Ryo Ishikawa has resurfaced after playing just once since January because of a back injury and getting married. Ishikawa won two weeks ago on the Japan Golf Tour for his 14th career victory, and was runner-up last week in the Fujisankei Classic. … Emiliano Grillo and Smylie Kaufman, who won the first two PGA Tour events this season, are the only rookies to make it to the BMW Championship. … U.S. Amateur champion Curtis Luck will play in the Australian Open on Nov. 17-20 at Royal Sydney. The Aussie will delay turning pro so he can play in the Masters, U.S. Open and British Open next year. … Curtis Cup captain Robin Burke and Blaine McCallister are among those who have been selected for the Texas Golf Hall of Fame. The induction is Oct. 10 in San Antonio. … Maverick McNealy of Stanford has won the Mark McCormack medal as the No. 1 amateur. He will be exempt to the U.S. Open and British Open next year provided he stays an amateur.
—
STAT OF THE WEEK: McIlroy joined Tiger Woods as the only players to win three or more FedEx Cup playoff events. Woods has won four. McIlroy won his third at the Deutsche Bank Championship.
—
FINAL WORD: "I came in here rusty this week. There's no driving range at the Winnie Palmer Hospital." – Graeme McDowell after missing the cut in the Deutsche Bank Championship. His wife gave birth to a son, Wills, at the start of the week.