SPIETH HAS NO CHANCE AGAINST SPELLING BEE CO-CHAMPION
FARMINGDALE, N.Y. (AP) — Jordan Spieth was no match for the National Spelling Bee co-champion – with spelling and, ultimately, with putting.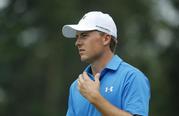 Jairam Hathwar revealed after sharing the Spelling Bee title in May that he loved golf and that Spieth was his favorite player. Spieth invited the 13-year-old to The Barclays this week at Bethpage Black. His corporate sponsor, AT&T, arranged for aspelling contest on the green .
For each word they spelled correctly, they could move the ball closer to the hole. For each word spelled wrong, they moved farther from the hole.
Hathwar got all three of his – borborygmus, succedaneum and drahthaar. Spieth missed his three – zoysia, logorrhea and triskaidekaphobia.
The teen rapped in his short putt. Spieth missed from longer range.
"You won the challenge," Spieth told him. "Shocker, I know."