SPATS OVER DOPING DOMINATE OLYMPIC SWIMMING EVENTS
RIO DE JANEIRO (AP) — Lilly King has her sights set on winning Olympic gold and she's not about to let anyone get in her way, especially not world champion breaststroker Yulia Efimova of Russia.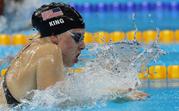 King made that clear in a finger-wagging display after her 100-meter breaststroke win over the Russian, who has a history of doping. King pointedly disparaged the Russian after the event over her drug history, and the feud has helped make doping spats among swimmers an intriguing subplot in the Rio Games so far.
A separate fight over doping between swimmers from Australia and China escalated on Monday, prompting officials from the two nations to join the fray. And the dispute between King and Efimova has the potential to grow as the two compete for a medal Monday night.
The source of the feuds is suspensions handed down to Efimova and Chinese swimmer Sun Yang, who served three months in 2014 over a banned heart medication. Efimova's actions and punishment were more severe – she missed 16 months for doping and tested positive this year for the now-banned substance meldonium.
The positive meldonium test was placed on hold while world anti-doping officials conduct further studies on the drug.
"If that's what she feels she needs to be able to compete, whatever, that's her deal," King told reporters. "I'm here to compete clean for the U.S. and that's what I'm going to do."
A smattering of boos greeted Efimova after she won her preliminary heat Sunday. The Russian men's 4×100 freestyle relay was also booed when introduced for their final the same night. For her part, Efimova waved a No. 1 finger after her semifinal Sunday, prompting King to do her own finger-wagging.
The dispute between King and Efimova went beyond the pool when officials from Australia and China got involved.
Australian swimmer Mack Horton originally labeled Sun a "drug cheat." The Chinese Swimming Association asked Horton on Monday to apologize for his "inappropriate words." Australia's Olympic Committee shot back in Horton's defense hours later, saying he was speaking his mind in support of clean athletes and wished him luck.
It was the second time in days that Horton had publicly referred to Sun's drug suspension as part of what the Australian team acknowledged is a campaign to rattle the Chinese star who won two golds at the 2012 Olympics.
Sun has previously said he did not know the medication trimetazidine, which he took for chronic heart palpitations, had been placed on the banned list when he tested positive. He burst into tears Sunday after losing to Horton, garnering an outpouring of support from Chinese social media users who pilloried Horton on his Facebook page. The Australian was accused of snubbing Sun's attempt to congratulate him on his win immediately after the race, although the two did briefly shake hands later at the podium.
The spiraling row has generated a shrill response from Chinese media during what has already been a period of elevated tensions after Australia voiced opposition in recent weeks to Chinese claims of maritime territory.
On Monday, Xinhua released a slew of gently critical articles on topics ranging from Australian trade policy to Melbourne's quality of life. The Global Times tabloid opted for a more blunt approach, referring to Australia in a commentary as a former British "offshore prison" that is on "the fringes of civilization."
As part of the International Olympic Committee's decision not to throw the entire Russian team out of the Olympics, Efimova was initially banned along with six other Russian swimmers who either had positive tests on their record or were named in an investigation of Russia's massive, state-sanctioned doping scheme.
Now, it looks like they'll all be competing in Rio de Janeiro, though world swimming body FINA has not fully explained why.
Efimova is also expected to swim the 200 breaststroke and presumably the 4×100 medley relay. She will swim next to each other in the 100-meter breaststroke final Monday night.
Efimova declined to speak with reporters after the semifinals, but promised to talk after Monday's final. Earlier Sunday, she described the last six months as "crazy" and said she didn't "understand what's going on."
When pressed about criticism from rival swimmers and coaches, she smiled and walked away.
Ruta Meilutyte of Lithuania, the world record holder in the 100 breast, said Efimova's doping history is disrespectful to other athletes.
"We train fair," she said. "When something like that happens, it's never nice. These are not the values of our sport."