ROOKIES INFUSE LIFE INTO REBUILDING PADRES ON LAST HOMESTAND
SAN DIEGO (AP) — The rebuilding San Diego Padres went 6-4 on their final homestand, including splitting a four-game series with the San Francisco Giants and taking two of three from the NL West champion Los Angeles Dodgers.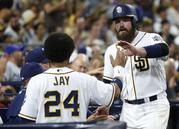 Most of the credit goes to several rookies called up from Triple-A El Paso, which won the Pacific Coast League title.
The Padres lost 9-4 to the Dodgers on Thursday night, but manager Andy Green likes what he sees.
"I think we showed some young guys here that infused some life and looked really good," Green said. "Manny Margot, Hunter Renfroe were outstanding, Carlos Asuaje had some good games and Austin Hedges was great behind the plate. "
Although Renfroe had a quiet night, going 1 for 5, he had four home runs and 12 RBIs in his first eight games.
Although Thursday's game got out of hand, "Nobody seemed to care what the score was when it's 9-2 there in the ninth inning and we're still swinging the bats," Green said. "This team's fought all year long. I don't think anybody who's watched us would think anything otherwise. I think that's to be commended. We have a ways to go, but we've showed that same resolve this homestand that we've kind of shown all year. "
Joc Pederson doubled twice and drove in three runs for the Dodgers, who remained two games behind the Washington Nationals with three to play in the race for home-field advantage in their division series matchup.
Rookie left-hander Julio Urias went three scoreless innings in his first start since Sept. 13, allowing one hit while striking out five and walking two. Brett Anderson (1-2) pitched 2 1-3 scoreless innings for the victory.
Padres left-hander Christian Friedrich (5-12) allowed five runs and seven hits in 5 2-3 innings, struck out three and walked one.
San Diego took a 2-0 lead in the fourth inning on consecutive RBI singles by Asuaje and Luis Sardinas.
Rob Segedin tripled to right for the Dodgers with one out in the fifth and scored on Pederson's double to center.
The Dodgers took the lead in the sixth with four runs – all charged to Friedrich – on four hits, a walk and a wild pitch. Friedrich allowed Justin Turner's RBI single and loaded the bases on a walk to Segedin before making way for Jose Torres. Torres' first pitch was wild, allowing Turner to score, and Pederson then hit a two-run double to center.
OH MY!
Broadcaster Dick Enberg was honored before his final home game as TV voice of the Padres. Enberg was presented with a microphone mounted on a base and gave a brief speech that he ended with his signature "Oh my!" At a reception earlier in the day, Enberg was given a surfboard featuring his picture and his "Oh my!" saying. The Padres unveiled a plaque naming one of the broadcast booths after Enberg, who is in his seventh season with the team. At 81, he's retiring from his five decades as one of the most recognizable sports broadcasters in history. Tennis great Rod Laver, who lives in Carlsbad in northern San Diego County, attended the ceremony. Enberg will call the Padres' season-ending, three-game series at Arizona.
UP NEXT
Dodgers: LHP Rich Hill (12-5, 2.05) is scheduled to start the season-sending series at San Francisco beginning Friday night. The Giants will counter with LHP Madison Bumgarner (14-9,2.71).
Padres: RHP Edwin Jackson (5-6, 5.77) is scheduled to start the opener of the final series at Arizona, which is scheduled to counter with RHP Braden Shipley (4-5, 5.26).