Ramyeon exports nearly triple over past decade
SEOUL, Jan. 30 (Yonhap) — Exports of South Korean-made instant noodles, or ramyeon, nearly tripled over the past decade, as their popularity has been spreading beyond China and Asia to the United States, Middle East and Europe, industry agencies said Monday.
The nation's ramyeon exports totaled US$290.4 million in 2016, up 32.7 percent from the previous annual record of $218.8 million set in 2015, according to figures released by the Ministry of Agriculture, Food and Rural Affairs, and the Korea International Trade Association.
Last year's volume was nearly triple the $102.6 million recorded a decade ago in 2006, the figures showed.
As South Korean ramyeon producers have been reinforcing their overseas marketing all over the world, its exports as a leading "K-food" are expected to further increase in the coming years.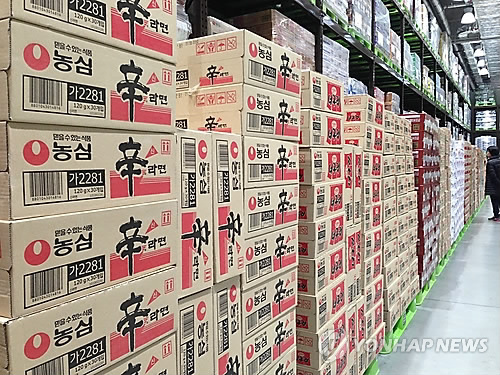 Ramyeon's export growth was notably high compared with other Korean food products.
In 2016, the nation's entire agriculture and food exports rose 5.9 percent from the previous year to $6.47 billion, while its shipments of fresh and processed food increased 7.5 percent and 5.6 percent, respectively.
Some products, like ginseng, pork, poultry meat, liquor and confectionery, even fell by 1.1 percent to 16 percent, according to the official data.
Ramyeon exports topped $100 million in 1997 and $200 million in 2012, and are expected to surpass the $300 million mark soon.
Shipments to China surged 94.4 percent last year, with exports to Vietnam and Thailand skyrocketing 90.4 percent and 155.8 percent, respectively.
Spicy stir-fried ramyeon products were hugely popular among young people in Southeast Asia last year, industry officials said, noting exports to Europe and the Middle East also showed strong growth.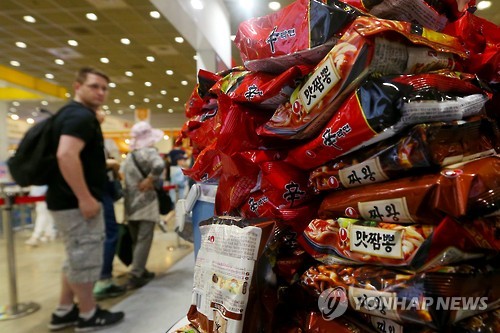 They said the actual volume of exports of Korean ramyeon could have been bigger if instant noddles produced abroad are included.
Nongshim Co. increased its overseas sales 15 percent last year to $635 million and its export rose 7 percent to $105 million. The company has local companies in the U.S., China, Japan and Australia, and its flagship product Shin Ramyeon is being sold in over 100 countries worldwide.
Samyang Food Co., which exported 95 billion won worth of ramyeon to 41 countries last year, saw its Hot Chicken Ramyeon becoming increasingly popular in China, Indonesia, Malaysia and other Southeast Asian nations.
Ottogi Corp., which logged 35 billion won in exports in 2016, up 20 percent from the previous year, said its Jin spicy seafood noodle soup ramyeon is popular among overseas consumers and sales of its cheese ramyeon are rising in Southeast Asia.
Paldo sold 40 billion won worth of ramyeon in over 80 countries worldwide last year.