Ochoa to play only an exhibition at her LPGA Tour event
MEXICO CITY (AP) — Lorena Ochoa will be playing in her LPGA Tour event in Mexico, but only for an exhibition.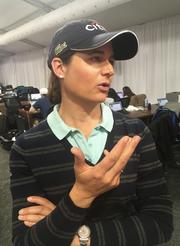 Ochoa had said Sunday at the Mexico Championship that she would be playing the Lorena Ochoa Match Play on May 4-7, and that it would be her first time playing her tournament since 2012.
Instead, she will be playing in Hall of Fame exhibitions during the weekend of the tournament.
Her brother, Alejandro Ochoa, said she did not want to be specific about her participation when speaking to a small group of reporters at Chapultepec Golf Club because the LPGA Tour had not publicized the Hall of Fame matches and his sister did not want to speak ahead of any announcement.
The LPGA Tour is expected to reveal details of the exhibition this week.
Ochoa said she has been practicing a few days a week and said she would practice every day in advance of her appearance at the Lorena Ochoa Match Play.
The 35-year-old Ochoa retired in 2010 when she was No. 1 in the world. She recently had married and wanted to start a family and work on her foundation. She last competed against LPGA Tour competition at the 2012 Lorena Ochoa Invitational.
Because she did not have 10 full years on the LPGA Tour, she was not eligible for the LPGA Hall of Fame. Because of a change in the voting process for the World Golf Hall of Fame – it is now done by a committee instead of large panel that included golf writers – Ochoa was selected for induction this year.
Ochoa compiled her 27 LPGA Tour victories in a six-year span in which she rose to No. 1 in women's golf. She also won two majors – the 2007 Women's British Open the first time it was held at St. Andrews, and the 2008 Kraft Nabisco Championship.