N.K. seeks to build finance complex, luxury hotel in eastern port city
SEOUL, Sept. 2 (Yonhap) — North Korea will seek to build a finance complex and five-star luxury hotel in an effort to attract foreign investment into its eastern port city of Wonsan, the North's portal site said Friday.
North Korea has unveiled a proposal to lure foreign investment to develop central areas of Wonsan into a trade and finance mecca, a project worth US$196 million, according to Naenara.
It said that the country plans to set up about 10 new buildings such as a department store and a gym in the city's central area and build a luxury hotel, a 15-story finance complex and other facilities nearby.
The move is part of North Korea's efforts to develop the international tourism zone spanning from Wonsan to Mount Kumgang on its east coast. In June 2014, the North set up the zone including a lavish Masikryong ski resort.
The North is seeking to earn hard currency by attracting foreign investment into its special economic zones as it faces economic hardship under a series of the U.N. Security Council's sanctions.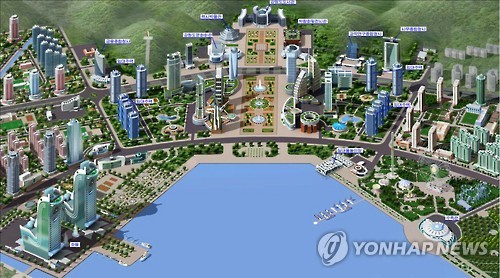 "The ruling party and the government have a firm will to develop the Wonsan-Mount Kumgang tourism zone into a world-class tourist destination," the investment proposal said.
Seoul's unification ministry said that Pyongyang won't be able to proceed with its investment projects in the face of tougher international sanctions.
"Amid the sanctions regime, it is not easy for foreign investment to reach the country," Jeong Joon-hee, a ministry spokesman, told a regular press briefing. "North Korea should realize the reality and take actions for denuclearization if it hopes to secure what it wants."
Lim Eul-chul, a professor at the Institute for Far East Studies of Kyungnam University, cast a similar view.
"North Korea's plan to build a finance complex means that Pyongyang realizes it cannot attract foreign investment if it does not have adequate financial infrastructure," he said.