MIGRANTS TO STAY ON GREEK ISLANDS DESPITE FIRE
ATHENS, Greece (AP) — Authorities on the island of Lesbos called for the immediate evacuation Tuesday of thousands of refugees to the Greek mainland after fires started by rioting residents gutted a detention camp. But European Union officials appeared cool to the idea.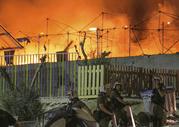 More than 4,000 people were housed at the camp in Moria on Lesbos where the fire broke out late Monday, destroying or damaging about 160 tents according to Greek officials. No injuries were reported at the camp, about 8 kilometers (5 miles) north of the island's main town.
Nine migrants were arrested on public disturbance charges after the chaotic scenes.
Police said the blaze was started during clashes between different ethnic groups in the camp, where tensions are high amid uncertainty on whether residents will be granted asylum in Greece or deported back to Turkey, from where they arrived in smugglers' boats.
Families with young children hastily packed up their belongings and fled into the nearby fields as the fire raged after nightfall. Many were later given shelter at volunteer-run camps.
"We have been saying for a very long time that overcrowding on the islands must be eased," regional governor Christiana Kalogirou told private Skai television.
"On the islands of the northeast Aegean, official facilities have a capacity of 5,450 places, but more than 10,500 people are there. There is an immediate need to take people off the islands because things will get even more difficult," she said.
More than 60,000 migrants and refugees are stranded in transit in Greece, and those who arrived after March 20 have been restricted to five Aegean islands under an EU-brokered deal to deport them back to Turkey. But the agreement has been fraught with delays, and most of the people in island camps have applied for asylum in Greece, launching a lengthy process during which they cannot be deported.
In Brussels, a spokeswoman for the European Commission, Natasha Bertaud, said the Greek government had described the situation as being under control. Transfers to the mainland, she said, would remain limited.
"To avoid secondary movement to the rest of Europe, that means keeping asylum seekers on the islands for the most part," Bertaud said.
The government said it would charter up to three passenger ferries to provide temporary accommodation, and increase the police presence on Lesbos.
The merchant marine ministry launched an urgent tender for a ferry that could accommodate at least 1,000 people and reach Lesbos by Wednesday. Minister Thodoris Dritsas said families would be granted priority on the vessel, while different ethnic groups would be kept apart. Officials said people who couldn't get ferry berths would be housed in new tents at Moria.
Greece has long defended the EU-Turkey deportation deal that came under renewed criticism from human rights groups.
"The EU and Greece cannot carry on stockpiling refugees indefinitely on the Greek islands," Amnesty International's Giorgos Kosmopoulos said.
"Witnessing the charred remains of Moria camp is shocking but comes as little surprise. Holding thousands of vulnerable people on Lesbos in appalling conditions with no knowledge of their fate inevitably creates an incendiary atmosphere of fear and despondency."