MICHAEL CARRICK, THE MAN MAKING MAN UNITED TICK
MANCHESTER, England (AP) — Amid the likely rotation during the busy festive program in the Premier League, there's one player Manchester United fans won't want to see out of the team.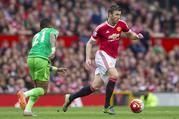 Forget Zlatan Ibrahimovic. Forget Paul Pogba. The most crucial member of Jose Mourinho's in-form side might be a 35-year-old defensive midfielder whose best days were supposedly behind him.
Michael Carrick is making United tick after belatedly gaining the trust of Mourinho.
The stats back it up: Since Carrick was recalled to the team on Sept. 21, United hasn't lost in the 12 games he has played in, winning 10 of them and only drawing the other two because of late equalizers.
In the past three seasons, United has won 60 percent of the games Carrick has started. Without him, the team has won 38 percent.
Carrick plays a duel role in United's team, offering protection to the back four through his positioning and anticipation, as well as providing a base for its midfielders and forwards to flourish in front of him.
Mourinho appears to have settled on a central midfield three of Carrick, Ander Herrera and Pogba in a 4-3-3. Carrick plays deepest, Herrera is the scavenger just ahead of him and Pogba get more license to go forward. It's no coincidence that United is starting to get better performances out of Pogba, the world-record signing for 105 million euros (then $116 million), now that he has Carrick as cover.
In his column in The Sunday Times last weekend, former United defender Rio Ferdinand said he had spoken to Pogba, who told him that Carrick has "set him free."
"Carrick feeds him the ball early, quickly and in areas where he can do damage," Ferdinand wrote, "before teams get set the way they were doing before."
With Pogba playing further forward, Ibrahimovic now has more support along with the wide players (Anthony Martial, Henrikh Mkhitaryan, Jesse Lingard, Juan Mata). Ibrahimovic's output has improved in recent weeks, too, scoring 10 goals in his last nine games.
At the same time, United isn't leaking as many goals with Carrick stationed in front of the defense. In the last six games Carrick has played, United conceded three goals and kept three clean sheets.
United has won its last three Premier League games and is in sixth place, now just four points off the Champions League qualification places.
"We have been speaking for a number of weeks now that things are clicking into gear for us," Carrick said. "We just haven't had the results to show for that.
"We say it every year: This time, coming into a quick run of games, is a big time and if you can come out of Christmas in good shape then you give yourself a real chance."
The problem for Mourinho is that United has four games across 13 days starting Monday and Carrick, at 35, will struggle to start all of them. It's the same with the 35-year-old Ibrahimovic, who has played every minute in the Premier League this season.
But at least Mourinho appears to have made his mind up about Carrick.
In the first six weeks of his first season at Old Trafford, Mourinho chose to play Marouane Fellaini or Herrera as his deep-lying midfielder. In one game, the derby against City at Old Trafford on Sept. 10, Fellaini and Pogba were selected as the two holding midfielders but they had no discipline to play in that position and City's midfielders ran amok.
Carrick brings more shape and rhythm to United's midfield. He was the on-field brains for Louis van Gaal during the Dutchman's two years at Old Trafford and he's still proving vital in the new era under Mourinho.