MCDONALD'S SALES RISE 1.3 PERCENT AT US STORES
OAK BROOK, Ill. (AP) — McDonald's says sales rose 1.3 percent at established U.S. locations in the third quarter, matching what Wall Street analysts expected.
The world's biggest hamburger chain also reported better-than-expected earnings and revenue for the last quarter and its shares rose 4 percent before the stock market opened Friday.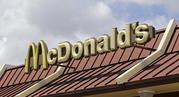 McDonald's launched all-day breakfast a year ago to try and reverse falling sales and win back customers. Sales at U.S. stores have increased in the last five quarters since then, but the growth is slowing. The 1.3 percent increase in the third quarter is slightly below the 1.8 percent increase it reported in the previous quarter. The company is adding more items to its all-day breakfast menu and is testing a Happy Meal for kids with an egg and cheese McMuffin and other breakfast items.
Globally, sales rose 3.5 percent at established locations, beating the 1.3 percent growth analysts expected, according to FactSet.
Overall, the company reported net income of $1.28 billion, or $1.50 per share, in the quarter that ended Sept. 30. Adjusted earnings came to $1.62 per share, surpassing the $1.48 per share Wall Street analysts expected, according to Zacks Investment Research.
It had revenue of $6.42 billion in the period, above the $6.29 billion analysts expected.
Shares of McDonald's Corp. rose $4.43 to $115 in premarket trading Friday. The stock has climbed 6.5 percent in the last 12 months.