Man kills himself with hunting rifle at gun shop
DAEJEON, Aug. 11 (Yonhap) — A man killed himself with a hunting rifle when he visited a gun shop in the central South Korean city of Daejeon on Thursday in an apparent suicide case, police said.
Around 11:25 a.m., the 50-year-old man, one of the shop's regular customers, took a gun out of its showcase, loaded it with a bullet that he brought with him, and then pointed the gun at himself while the shop owner's attention was elsewhere.
According to witnesses and footage from a CCTV camera located in the shop, the customer, who has been visiting the shop since January, entered it around 9:30 a.m. and talked with the shop's owner for about two hours before shooting himself.
Police said he was able to handle the gun and kill himself with his own bullet without the shop owner seeing, because the shop owner was watching TV at the time.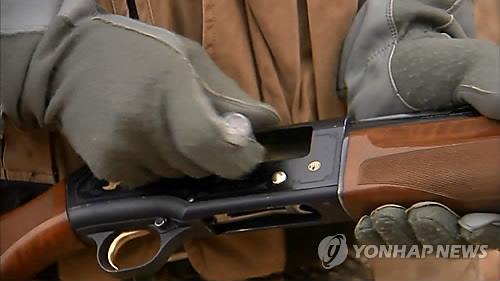 The man was found carrying two additional bullets in his clothes. He has a license to use a hunting rifle and keeps one at a police station in the city.
A hunting rifle license allows its owner to possess up to 200 bullets, but those are required to be kept with the gun in police custody. Police are investigating into how he got away with possessing bullets and why he took his own life.
Accidents or crimes involving guns are extremely rare in South Korea, as guns, including pistols and hunting rifles, are strictly controlled.
Only licensed hunters are allowed to own hunting rifles, and still must not keep them at their own homes but at police stations.