KERBER BEATS HALEP, GOES TO 2-0 IN RED GROUP AT WTA FINALS
SINGAPORE (AP) — Top-seeded Angelique Kerber is the only player in the WTA Finals Red Group to stand at 2-0 in the round-robin stage after a 6-4, 6-2 win over Simona Halep on Tuesday.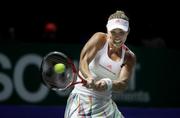 Madison Keys, who needed to win her match to stay in semifinal contention, prevailed 6-1, 6-4 in which she never offered Dominika Cibulkova a break point opportunity.
Keys has won all four matches she's played against Cibulkova without dropping a set.
"It's a huge thing, especially for me as it makes you a little bit more comfortable when you're not facing break points," Keys said.
All four players in the Red Group remain in the hunt for a semifinal berth.
In the standings, Kerber is at 2-0, Halep and Keys are 1-1, and Cibulkova 0-2. This year marks Keys and Cibulkova's WTA Finals debut.
On Thursday, Kerber plays Keys, and Halep plays Cibulkova in the final round-robin matches.
"It's good because you still have a third chance," Cibulkova said. "Knowing this, that I can still go into semifinals, I will be as positive as I can to win my match against Halep."
Kerber, playing steady and precise tennis, allowed Halep to take all the risks. She posted 11 winners and 16 unforced errors to 24 winners and 35 unforced errors for Halep, who is 1-1.
"I'm feeling very, very good here," Kerber said. "I'm very happy to win my second match here and to be playing some of my best tennis."
Kerber is 4-4 against Halep, but has won four of their five meetings this season – the most matches played between any two players this year.
Kerber is making her fourth appearance at the WTA Finals, but the German has never gotten beyond the round-robin stage.