K-drama 'Reply 1988′ sweeps 200 million views in China
SEOUL, Aug. 11 (Yonhap) — The South Korean hit television show "Reply 1988″ drew 200 million views in the month since its China launch in June, government data showed Thursday.
The latest version of the drama-comedy "Reply" series on cable network tvN has raked in a total of 235 million views from June 20 to July 20, revealed the Beijing office of the Seoul-based Korea Creative Content Agency (KOCCA), citing Chinese broadcaster iQiyi. The Chinese media outlet is the exclusive broadcaster of the South Korean drama.
Starring actors Ryu Jun-yeol, Park Bo-gum, Ko Kyoung-pyo and singer-actress Hyeri of girl group Girl's Day, the drama was the most viewed in Beijing and Shanghai in the monthlong period, posting a steady increase in viewership.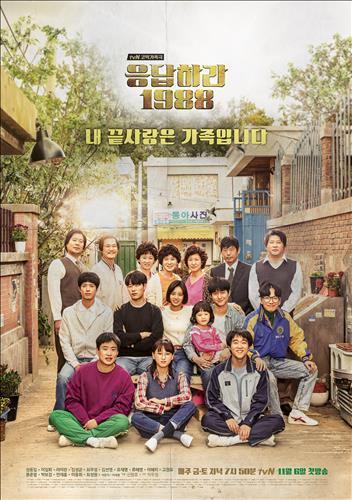 "The success of 'Reply 1988′ owes much to the recent popularity of retro shows about the bygone days of the 70s and 80s," a KOCCA official said.
"A number of Chinese local media companies call 'Reply 1988′ the winner of true review-based marketing. … We see many K-dramas broadcast simultaneously in Korea and China these days, but 'Reply 1988′ shows an interesting example of a 'silently prevalent' hit," the official added.
Launched at home on Nov. 6, 2015, "Reply 1988″ succeeded its two prequel series "Reply 1997″ and "Reply 1994," creating a nationwide flurry of nostalgia. The 20-episode Friday-Saturday drama chronicles small and big events in the lives of South Koreans in the 80s onwards.