IOC REPRIMANDS EGYPTIAN WHO WOULDN'T SHAKE ISRAELI'S HAND
RIO DE JANEIRO (AP) — An Egyptian athlete who refused to shake his Israeli opponent's hand after their judo bout has been reprimanded and sent home from the Rio Olympics, officials said Monday.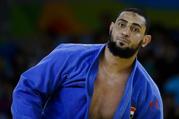 The International Olympic Committee said Islam El Shehaby received a "severe reprimand" for his behavior following his first-round heavyweight bout loss to Or Sasson on Friday.
When Sasson extended his hand, El Shehaby backed away, shaking his head. The referee called the 34-year-old El Shehaby back to the mat and obliged to him to bow; he gave a quick nod and was loudly booed as he exited.
The IOC, which set up a disciplinary commission to investigate the incident, said the Egyptian's conduct "was contrary to the rules of fair play and against the spirit of friendship embodied in the Olympic values."
The Egyptian Olympic Committee also "strongly condemned" El Shehaby's actions "and has sent him home," the IOC said.
The IOC also asked the Egyptian committee to make sure that all its athletes "receive proper education on the Olympic values before coming to the Olympic Games."