Five Global Megatrends to Hit Korea
PwC chief advises Korea Inc. to adapt and innovate to remain competitive
By Lee Hyo-sik
Korea has emerged as a global industrial powerhouse since the Korean War. Over the past six decades, automakers, shipbuilders, steelmakers and other manufacturers have become leaders in the industry. Companies like Samsung Electronics and Hyundai Motors have successfully sold Korean-made products across the world.
To further raise its global profile, however, Korea Inc. must boost its ability to innovate and adapt to the rapidly changing global business environment, according to the head of the world's largest accounting and consulting firm. He says only the those who successfully capitalize on 'Five emerging global trends' will emerge as a winner.
In an interview with The Korea Times, Dennis Nally, chairman of PricewaterhouseCoopers (PwC) International, said Korean companies face an increasing difficulty in achieving sustainable growth against the unprecedented global economic landscape since the collapse of Lehman Brothers in late 2008. "What our Korean clients want to know is how they can grow in the current sluggish environment while looking for investment opportunities," Nally said. "This is not unique to Korean businesses. Companies all over the world are facing the same question," he added.
He visited Korea on Nov. 17-18 to meet with local clients, including Samsung and KB Financial Group. PwC operates in 157 countries with over 184,000 employees. It provides 421 of the Fortune Global 500 companies with auditing, advisory, tax and other corporate services.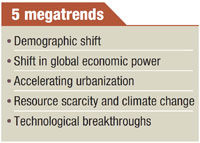 Its Korean unit, Samil PricewaterhouseCoopers headed by Chairman Ahn Kyung-tae, works with Samsung Electronics, KB, LG Electronics and other large corporations. The firm employs over 3,800 accountants and other professionals.
Nally said the global economy has remained in the doldrums over the past five years since the outbreak of the global financial market meltdown, adding that the economic rebound has been slower than in the past. "The world is a different place from five years ago. This time, the economic recovery takes longer with more uncertainties. The world has become smaller and more complicated with businesses facing intensifying competition," the chairman said. "But opportunities abound for those willing to quickly respond to changes and adapt to new norms."
He said PwC has been helping its corporate clients prepare for and take advantage of five emerging global megatrends: ▲demographic shift, ▲shift in global economic power, ▲accelerating urbanization, ▲resource scarcity and climate change, and ▲technological breakthroughs."PwC projects the five most significant changes will likely take place over the next decade. If Korean companies capitalize on them, they will be better able to position themselves, develop new business models and put innovative ideas into practice," the chairman said. "But first, they should turn their organizations into a more agile, responsive and flexible entity. We will then better help them navigate the increasingly complex and competitive marketplace."
Five global megatrends
Nally first talked about the global demographic shift. "The coming decade will see explosive population growth in some countries and decline in others. Some countries are ageing rapidly, meaning their supply of working-age people will decline as a proportion of the total population. In contrast, other countries have populations that are young and growing, promising ever-larger labor forces and consumer markets," he said.
Within this overall trend, the burden of supporting the expanding ranks of retirees will put the working population under increasing strain in some countries, the chairman said. "In others, growing populations will need to be fed, housed, educated and employed to sustain growth and cohesion. In either case, demographic shifts will be a major force for social and economic change."
Nally said healthcare and other industries catering to a growing number of senior citizens in Korea will be promising. "Korean companies should expand presence in Southeast Asia, the Middle East and Africa where the youth population is rapidly expanding."
The chairman also said the global economic power is shifting from developed countries to developing countries, advising Korean consumer goods makers to build plants in Indonesia, Vietnam and other rapidly growing economies. "In the past few years, the global balance of economic power has been shifting from developed to developing economies. As this trend continues, it will have an increasing impact on where growth opportunities arise for companies, and on where they invest to capitalize on those opportunities," he said. "The next decade will see this long-term economic rebalancing reach a tipping point, as emerging markets expand their global reach and influence."
Nally said this reshaping of the world economic order will see the developing world make the transition from production to consumption-oriented societies, which offers lucrative opportunities for Korean consumer goods makers. "Companies must develop products designed for each specific emerging market. Bringing products designed for advanced markets and selling them to developing markets does not work. They should locate close to where consumers are."
He also said the world will see the ongoing urbanization accelerate further, which will provide lucrative growth opportunities for Korean construction companies and other infrastructure developers. "Today, almost half of the world's population lives in cities, up from 30 percent in the 1950s. The rapid urbanization seen in recent decades is just the start of a steepening growth curve," the chairman said. "By 2030, the proportion of people living in cities will surge to 60 percent. Expanding city populations, especially in emerging economies, will demand rising investment in urban infrastructure. Korean builders and real estate developers should be prepared to seize this golden opportunity."
Natural resources will become increasingly scarce and the global temperature will continue to rise, Nally said, suggesting that Korea develop renewable energy technologies and nurture globally competitive agriculture firms. "We estimate that the world carbon emissions from burning fossil fuels will continue to rise, pushing the average global temperature higher," he said. "The global population will continue to expand, reaching an estimated 8.3 billion by 2030, which will increase global demand for energy, water and food."
The chairman projects that in many parts of the world, the impacts of climate change will increase in extreme weather, raise sea levels and intensify water shortages, adding that these effects will make it more difficult to grow crops, raise animals, and catch fish. "Against such a backdrop, Korean energy companies should make more efforts to secure technological prowess in the environment-friendly, renewable energy sector. At the same time, Korea needs to mobilize more resources to advance its agricultural knowhow to meet the world's growing food demand," he said.
Finally, Nally said breakthroughs in research and development ranging from nanotechnology to robotics are opening up new opportunities for businesses. "The constant cycle of innovation is enabling entire new industries to rise almost overnight, bringing major implications for the size and shape of the world's manufacturing and high-tech sectors and companies," the chairman said. "As technologies progress from research concepts to prototypes to applications in affordable consumer goods and industrial processes, they will generate improvements in efficiency and productivity. In my view, these advances will in turn trigger a strong acceleration in economic growth toward the end of the coming decade."
Korea urged to cope with aging population 
Nally is urging Korea to take its ongoing population aging more seriously, stressing that this has undermined the foundation of the nation's manufacturing industry as a result of increasing labor costs and falling productivity. "Korea excels at technology innovation as it devotes significant resources to research and development. This is a major strength of the Korean economy," the chairman said. "The country, however, has to more effectively deal with demographic changes to maintain its competitiveness."
Korea is one of the fastest aging societies in the world as it faces the rapidly falling birthrates and expanding life expectancy. According to Statistics Korea, nearly 12 percent of the Korean population is now aged 65 or older. The ratio is projected to jump to 20 percent in 2026 and further to 38.2 percent in 2050, making Korea the world's most aged society.
Due to the shrinking working age population, companies here face higher wages and falling labor productivity, which is chipping away at their ability to compete.
"But I think Korea has resources to deal with these challenges as long as the nation focuses on what it does best and continues to promote creativity and innovation," Nally said. "Korean companies need to have a global mindset and quickly respond to changes in policies, regulations, consumer preferences and other market environments to remain competitive."
When asked about Korean manufacturers' relocation of production facilities to emerging economies, the chairman said there is nothing to worry about. "Some manufacturing activities will move to foreign countries where consumers are. But this will not negatively affect the domestic manufacturing sector because new types of industries will replace the old ones."Nally said if Korea continues to innovate and bring creativity to products and services, there will continue to be opportunities for success. "Korea has to foster innovation, and research and development in technologies. The nation should invest and attract smart people too. In the future, healthcare, food safety, personal security, water and other new industries will flourish here. Also, technologies and knowhow on creating sustainable, environment-friendly mega cities will be promising."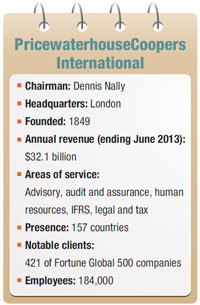 About Dennis Nally
Nally has served as the chairman of PricewaterhouseCoopers (PwC) International since 2009. Prior to that, Nally was the chairman and senior partner of the U.S. unit of PwC. He has extensive experience serving large multinational clients in a variety of industries, but focusing on technology and life sciences.
A graduate of Western Michigan University, Nally also completed executive programs at Columbia University and Pennsylvania State University.