Federal judge tosses SEC suit against Texas attorney general
AUSTIN, Texas (AP) — A federal judge on Thursday dismissed claims by the U.S. government that Texas Attorney General Ken Paxton fraudulently duped wealthy investors before taking office, giving the Republican a key victory two months ahead of his criminal trial that carries a possible prison sentence.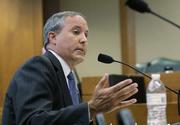 Paxton, who has spent most of his two years as attorney general under felony indictment, has now twice prevailed over accusations by the U.S. Securities and Exchange Commission that he had a duty to tell investors he was being paid by a high-tech Texas startup while recruiting more than $840,000 from them.
The dismissal of the civil lawsuit brought by federal regulators has no bearing on Paxton's criminal trial that is scheduled to begin in May near Dallas.
But the cases are nearly identical, and the decision Thursday by U.S. District Judge Amos Mazzant may hint at hurdles special prosecutors will have to overcome against a jury.
Mazzant last year tentatively dismissed the SEC's case but gave the agency another chance to strengthen its arguments. He wasn't swayed by the second try.
"I have maintained all along this whole saga is a political witch hunt," Paxton said in a statement.
"Today's ruling to dismiss the charges with prejudice confirms that these charges were baseless when the SEC initially brought them and they were without merit when SEC re-filed them," he said. "Someone needs to hold the SEC accountable for this travesty."
Brian Wice, one of the special prosecutors who will try the criminal case against Paxton, declined comment Thursday.
Paxton was indicted in July 2015 – just six months after being sworn in – and weathered a tumultuous first year as Texas' top law enforcement official under the weight of being charged with two counts of felony securities fraud. He has pleaded not guilty. If convicted, he would face between five and 99 years in prison.
But Paxton, who was elected in 2014 behind an endorsement from Republican U.S. Sen. Ted Cruz, has since embarked on an aggressive campaign to raise his national and public profile. He led lawsuits against efforts by former President Barack Obama's administration to expand transgender rights and, earlier this week, joined other state attorneys generals for a meeting with President Donald Trump.
At the heart of the case against Paxton are allegations that he was required to tell investors that Servergy Inc., a data storage startup, was paying him in the form of 100,000 stock shares to bring in money for the company. Paxton paid a state fine in 2014 over failure to register as an investment adviser representative. But he has maintained he was under no duty to disclose his relationship to investors.
Mazzant agreed.
"Paxton's conduct simply does not give rise to liability under the federal securities laws as they exist today," Mazzant said in his ruling Thursday.
Paxton, however, has not been successful in convincing criminal courts to also grant a dismissal. His criminal trial is scheduled to take place in Collin County, a conservative Dallas suburb where Paxton lives and where a grand jury indicted him.
But prosecutors are now seeking a change of venue. They told state District Judge George Gallagher that a "two-year long crusade" of lawsuits, social media posts, leaks and a public relations blitz surrounding the case has made it impossible to get a fair and impartial trial. Gallagher has not yet ruled on that request.