EXTERNAL ATTACKS RISE AS ISLAMIC STATE FORTUNES FALL
BEIRUT (AP) — International terror attacks seemingly inspired by the Islamic State group are increasing as its fortunes fall in Syria and Iraq.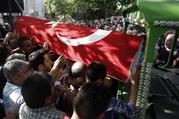 The attack on the Istanbul airport was still unfolding Tuesday night when Turkish authorities said IS is the likely culprit, although no group has claimed responsibility so far.
If IS is behind the latest carnage, it would be in keeping with its accelerated campaign of exporting terror, a tactic which appears aimed at deflecting attention from mounting territorial losses in Syria and Iraq.
Here's a look at what the Islamic State group would hope to gain from such an attack:
PROJECTING STRENGTH
Two years after it declared a caliphate across large parts of Syria and Iraq, the Islamic State is in crisis. In the last few weeks, the group has suffered major territorial losses in Iraq, Syria and Libya, and is fighting hard to defend major strongholds.
Iraqi forces have retaken the key city of Fallujah west of Baghdad, and Libyan forces have swept into the IS stronghold of Sirte. In Syria, IS militants are fighting off U.S.-backed forces in Manbij, a town on a key supply line from Turkey to the group's de facto capital, Raqqa. The losses can be added to a growing list of defeats, including the historic Syrian town of Palmyra in March, the Syrian border town of Kobani and the Iraqi city of Tikrit.
The tempo of international attacks has increased with each military defeat, from the Paris attacks in November and the Brussels attacks in March to a suicide attack on the Syrian-Jordanian border last week that killed seven Jordanian soldiers, the deadliest attack in the kingdom in years.
Such attacks help the group project strength and reassure supporters who might be demoralized by the shrinking borders of its self-styled caliphate. Attacks can also give a boost to propaganda and fundraising efforts, which are increasingly important as IS loses oil wells and other sources of revenue in Syria and Iraq.
"At least in the near-term, the threat of inspired external attacks will rise as the group's fortunes fall," according to an analysis Tuesday by the Soufan Group security consultancy.
PROPAGANDA FACTOR
For the same reasons, IS has an interest in taking credit for attacks carried out by self-radicalized loners. Orlando gunman Omar Mateen said he acted on behalf of IS, which claimed him as a "soldier of the caliphate," but there is no evidence he was in contact with the group.
Elias Hanna, a political studies instructor at the American University of Beirut, said the Istanbul airport attack follows the group's modus operandi of using multiple suicide bombers to attack "soft targets," as it did in Brussels earlier this year. Such random attacks against civilians instill fear in the hearts of its enemies, something which the group thrives on.
The Istanbul attack also comes during the Muslim holy month of Ramadan, when radicals believe "martyrdom" holds special significance. IS has ordered stepped up attacks during Ramadan, calling for its supporters to strike wherever possible.
Some of the biggest battlefield victories by Muslims in the time of the prophet Muhammad in the 7th century came during Ramadan, and hard-line clerics tout the month as a time for victory in jihad.
STRIKING TURKEY
Turkey was long seen as a jihadi highway for allowing thousands of foreign fighters to join the war against Syrian President Bashar Assad. But it has become a target for IS in the last year, after shutting down border crossings with Syria and cracking down on smuggling.
A European security official said intelligence has indicated IS is also getting less money from oil smuggling in Turkey, and suggested that there have been growing tensions between IS and the Turkish government. He spoke on condition of anonymity because he was not authorized to discuss the sensitive topic publicly.
IS had not claimed responsibility for the airport attack by Wednesday evening, but it issued an infographic celebrating two years since announcing its caliphate. It claimed to have "covert units" in Turkey, among other places, according to the SITE Intelligence Group.
Interestingly, the group has not claimed responsibility for any attacks in Turkey, except for the slaying of Syrian activists there, even when the Turkish government has blamed the group.
STRATEGIC AMBIGUITY
Analysts say that reflects some unique dynamics between IS and Ankara.
Mohamed Noureddine, a Lebanese University professor who specializes in Turkish-Arab relations, said he does not believe IS is behind the attack unless it claims it in an official announcement.
Turkey and IS swap artillery shells across the Syrian border, "but neither side threatens the other's core interests," he said.
NATO member Turkey shares global concerns about the extremist group's ambitions, but may also see it as a counterweight to Assad's forces and Kurdish insurgents in Syria. Ankara is part of the U.S.-led coalition against IS, but may be wary of a full-scale confrontation with the group, which has thousands of fighters dug in along the border and likely has sleeper cells within Turkey.
The absence of claims of responsibility "indicates that the group doesn't fully consider itself at war with Turkey yet, but it is using these attacks to give it a stronger hand in negotiations over border access and the flow of oil and other materials," said Matthew Henman, managing editor at IHS Jane's Terrorism and Insurgency Centre.
Hanna said the ambiguous dynamic between IS and Turkey is governed by the push and pull of overlapping short-term interests and clashing long-term ones.
"Ambiguity is very important in war," said Hanna. "It creates chaos and anxiety."