CUBS BEAT DODGERS 8-4, HEAD HOME WITH 3-2 LEAD IN NLCS
LOS ANGELES (AP) — One win away. Two chances at home. Seven decades of waiting.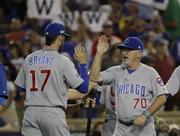 The Chicago Cubs closed in on their first World Series trip since 1945 by beating the Los Angeles Dodgers 8-4 on Thursday in Game 5 of their National League playoff.
Jon Lester pitched seven sharp innings , Addison Russell hit a tiebreaking homer and the Cubs grabbed a 3-2 lead in the NL Championship Series.
On deck, a pair of opportunities to wrap up that elusive pennant at Wrigley Field.
"The city of Chicago has got to be buzzing," manager Joe Maddon said. "We're not going to run away from anything. It's within our reach right now."
The Cubs' first opportunity to clinch comes Saturday night in Game 6, when Dodgers ace Clayton Kershaw faces major league ERA leader Kyle Hendricks.
"That's a game we expect to win," Los Angeles manager Dave Roberts said.
Of course, the Cubs were in the same favorable position 13 years ago – heading home to Wrigley with a 3-2 lead in the NLCS.
But even with ace pitchers Mark Prior and Kerry Wood starting the final two games, Chicago collapsed against the Marlins in one of its most excruciating failures.
More than a decade later, the franchise is still chasing its first World Series championship since 1908.
"We've heard the history," center fielder Dexter Fowler said, "but at the same time we're trying to make history."
Budding star Javier Baez was in the middle of everything for the Cubs, a common theme this October. The second baseman made a sensational defensive play when the game was still close in the seventh, and histhree-run double capped a five-run eighth that made it 8-1.
After busting out of his postseason slump Wednesday, Russell hit a two-run homer for the second straight game. This one was a sixth-inning drive off losing pitcher Joe Blanton that gave Chicago a 3-1 lead.
"Just rounding the bases, it was pretty exciting," Russell said. "Pumped up, not only for myself but for the team and that little cushion that Jonny had to go forward from that."
Baez had three of Chicago's 13 hits, matching the team's total in Game 4, when the Cubs snapped a 21-inning scoreless streak and won 10-2.
Lester allowed one run and five hits, improving to 2-0 in three playoff starts this year. He has given up two runs in 21 innings.
The left-hander struck out six and walked one in a slow-paced game that lasted 4 hours, 16 minutes.
"These guys won the game for us," Lester said, nodding toward Russell and Baez. "I was just kind of along for the ride."
Anthony Rizzo's run-scoring double gave the Cubs a 1-0 lead in the first.
Los Angeles tied it in the fourth on Adrian Gonzalez's RBI groundout.
Russell homered on an 0-1 pitch from Blanton, who gave up a single to Baez leading off the sixth. Baez stole second before Russell's shot to left-center put the Cubs ahead on another unusually hot night at Dodger Stadium.
Blanton took his second loss of the series. The veteran right-hander gave up consecutive homers in the eighth inning of Game 1, including a tiebreaking grand slam by pinch-hitter Miguel Montero.
"Our confidence hasn't wavered," Roberts said . "This series certainly isn't over."
With the Dodgers trailing 3-1 in the seventh, Gonzalez found himself on the wrong end of a replay review for the second consecutive night.
With Baez playing way out on the outfield grass in shallow right, the slow-footed Gonzalez tried to take advantage with a drag bunt leading off the inning. Baez rushed in for a barehanded scoop and off-balance throw, but Gonzalez initially was called safe by first base umpire Ted Barrett. The Cubs challenged and the ruling was overturned.
In Game 4, Gonzalez was tagged out at home to end the second after diving with his left hand stretched toward the plate while catcher Willson Contreras applied a tag. The Dodgers challenged, but the video review upheld umpire Angel Hernandez's out call.
Chicago jumped on struggling Dodgers rookie Kenta Maeda from the start. Fowler singled leading off the game and scored on Rizzo's double to right two batters later.
Maeda gave up one run and three hits over 3 2/3 innings. The right-hander has allowed eight earned runs in 10 2/3 innings this postseason.
The Dodgers' defense fell apart in the eighth.
Gonzalez tried flipping Russell's slow roller to reliever Pedro Baez, who came over to cover first and bobbled the ball for an error.
Contreras followed with a pinch-hit single, and the runners moved up on pinch-hitter Albert Almora Jr.'s sacrifice bunt. Fowler reached on an infield single to first, with Gonzalez losing a foot race when Fowler slid into the bag as Russell scored.
Kris Bryant reached on an infield single to third, with the Dodgers unsuccessfully challenging the call that he was safe.
The Dodgers thought they'd finally escaped the inning when Rizzo lined out to second baseman Kike Hernandez, who nearly doubled up Fowler at second. But the Cubs challenged the call and it was reversed, prolonging the inning.
Pedro Baez got yanked after walking Ben Zobrist to load the bases. Ross Stripling came on to face Javier Baez, who doubled to deep right, driving in three more runs.
"We can grab that momentum by one name: Kershaw," Gonzalez said. "We don't want to put it all on him, but if we score a couple of runs, we'll feel real good."
SCULLY RETURNS
Vin Scully was back at Dodger Stadium for the first time since ending his 67-year career behind the microphone earlier this month.
The 88-year-old Hall of Fame announcer attended as a spectator and proclaimed, "It's time for Dodger baseball!" from an upstairs suite.
UNDERSTATED
Cubs outfielder Matt Szczur isn't on the NLCS roster, but he's contributing. A day after his bat was borrowed by Rizzo to hit a home run, Szczur revealed during an in-game TV interview that Russell wore a pair of his underwear leggings Wednesday after leaving his own at home.
UP NEXT
Dodgers: Kershaw takes the mound in Chicago on an extra day of rest. The left-hander is 2-0 with a 3.72 ERA in three starts and one relief appearance this postseason. Overall, the three-time Cy Young Award winner is 4-6 with a 4.39 ERA in 17 career playoff appearances.
Cubs: Hendricks' 2.13 ERA was tops in the majors this season. The right-hander allowed a solo homer over 5 1/3 innings in Game 2, his longest career postseason start. The Cubs lost 1-0 to Kershaw.