CHINA LAWYER GETS 7 YEARS IN 3RD SUBVERSION TRIAL THIS WEEK
BEIJING (AP) — A Chinese lawyer was sentenced to seven years in prison Thursday in the third in a series of subversion trials demonstrating the ruling Communist Party's determination to silence independent human rights activists and government critics.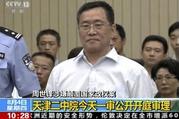 The sentence given to Zhou Shifeng results from his role as director of Beijing's Fengrui Law Firm, which took on sensitive cases and represented people who dared challenge the party.
Zhou, 52, accepted the ruling and will not appeal, the official Xinhua News Agency reported.
His half-day trial in the northern city of Tianjin followed those of two related legal activists earlier this week, both on charges of subversion. As with the others, Zhou was detained in July of last year during a sweeping roundup of activists and lawyers. About 300 people were initially seized and questioned before most were released.
Zhou was accused of coming under the influence of "anti-China forces" and opposing China's government and political system. He was also accused of opposing the "one country, two systems" policy applied in former foreign colonies Hong Kong and Macau.
Zhou "played a major role in a group of activists who attempted to manipulate public opinion and damage national security by spreading subversive thoughts," state media quoted the verdict as saying.
It said Zhou worked with activists Hu Shigen, Zhai Yanmin and Li Heping "to encourage lawyers to highlight sensitive cases and hired protesters to disturb the judicial system." Hu was given a 7½ year sentence on Wednesday and Zhai a suspended three-year sentence on Tuesday, while Li is being tried separately.
Zhou also "asked administrative officers in the law firm to post anti-government comments online to stir up public sentiment," the verdict said.
Zhou established Fengrui in 2007, and the following year took on one of the country's biggest dairies in a massive tainted infant formula scandal that the government had tried to squelch. The firm also represented clients targeted by the government, including members of the banned Falun Gong meditation sect and activist artist Ai Weiwei.
Zhou's final case involved Zhang Miao, a news assistant for the German weekly Die Zeit who was detained for nine months after helping with the magazine's coverage of pro-democracy protests in Hong Kong. Zhou was meeting Zhang at a hotel in suburban Beijing following her release when he was seized, hooded and driven away by agents.
This week's trials are part of a pattern established under the administration of President Xi Jinping to use more sophisticated legal means to attack perceived opponents as it maintains pressure on activists and non-governmental organizations.
In Washington, State Department spokesman Mark toner expressed concern over that several lawyers and activists have been sentenced to up to seven years on "vague and apparently politically motivated charges." He said it was "troubling" that the defendants had been denied access to their chosen counsel and family members.
"We urge China to release all the lawyers and activists who were detained on July 9, 2015, and remove restrictions on their freedom of movement and professional activities," Toner told reporters.
The trials show China is intent on silencing anyone who "raises legitimate questions about human rights and uses the legal system to seek redress," Amnesty International said in a statement on Zhou's conviction.
"The authorities are using vague legal provisions as a weapon to give their politically motivated assault the veneer of legitimacy. When state security laws are open to such rampant abuse, the law needs to change," Roseann Rife, the group's East Asia research director, said in the statement.
Several of those detained, including Zhou and fellow Fengrui lawyer Wang Yu, have made televised apologies for the crimes they are accused of, saying their legal activism was directed by unidentified "hostile foreign forces" to smear and attack the Chinese government.
Fengrui often worked with activists to gather evidence of government abuses and lead clients and the disgruntled in street protests while spreading word online. Their actions were harshly denounced by the authorities as thuggery and interference in the legal process.
Many family members of those being held say they and their retained lawyers have been denied access to the detainees for more than a year, receiving only occasional updates by word of mouth. Some have been briefly detained themselves while seeking information. Zhou and others were assigned government-appointed lawyers who worked closely with the court.
More than a dozen of those detained last year remain in custody, their legal fates still unknown.